A different way of listening to the music and stories we love.
We cannot reflect on another orbit around the sun without acknowledging the printed works that have adorned our Rough Trade shelves this year, bringing just as much creativity to delve into as our musical releases. From first-time much anticipated memoirs, photography collections, and a journey of self-discovery; we have been sifting through a real goldmine of new literary releases, as some of our favorite independent publishers present us with titles our music-loving community can't put down.
With this year's crop including the likes of Thurston Moore, Sly Stone, Jamie Stewart (Xiu Xiu), John Densmore and Glen E. Friedman, the size of our reading pile has only continued to grow, with great choice week in and week out for the bookworms amongst our customers.
Scroll on to discover 10 beautifully produced books which have stood out as the best reads of 2023, a range of Rough Trade Exclusive editions, signed copies, special posters or postcards and unseen photography.
---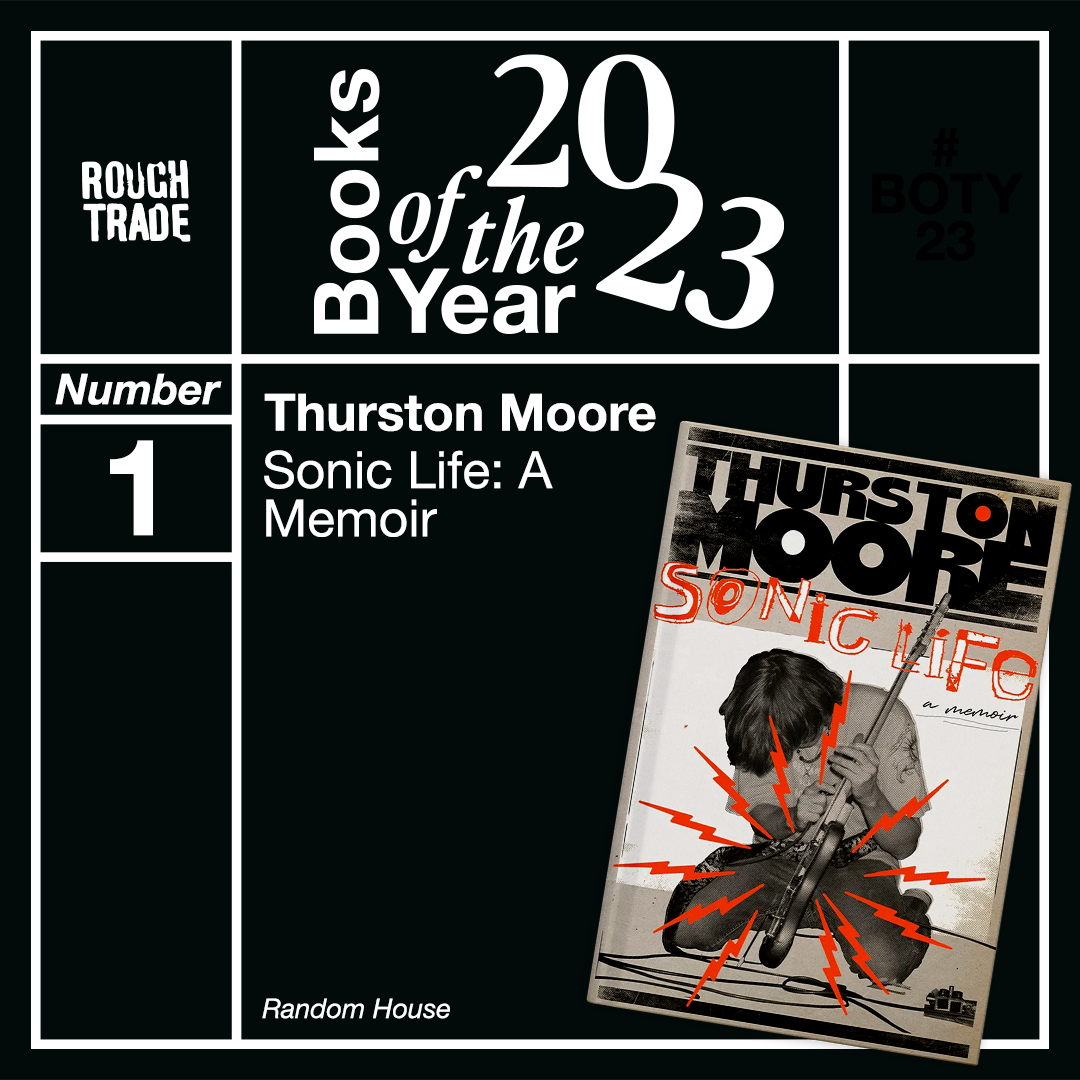 Random House
Signed copies available.
From the founding member of Sonic Youth, a passionate memoir tracing the author's life and art—from his teen years as a music obsessive in small-town Connecticut, to the formation of his legendary rock group, to thirty years of creation, experimentation, and wonder.
"Downtown scientists rejoice! For Thurston Moore has unearthed the missing links, the sacred texts, the forgotten stories, and the secret maps of the lost golden age. This is history—scuffed, slightly bent, plenty noisy, and indispensable."
— Colson Whitehead, Pulitzer Prize–winning author of The Underground Railroad and Harlem Shuffle.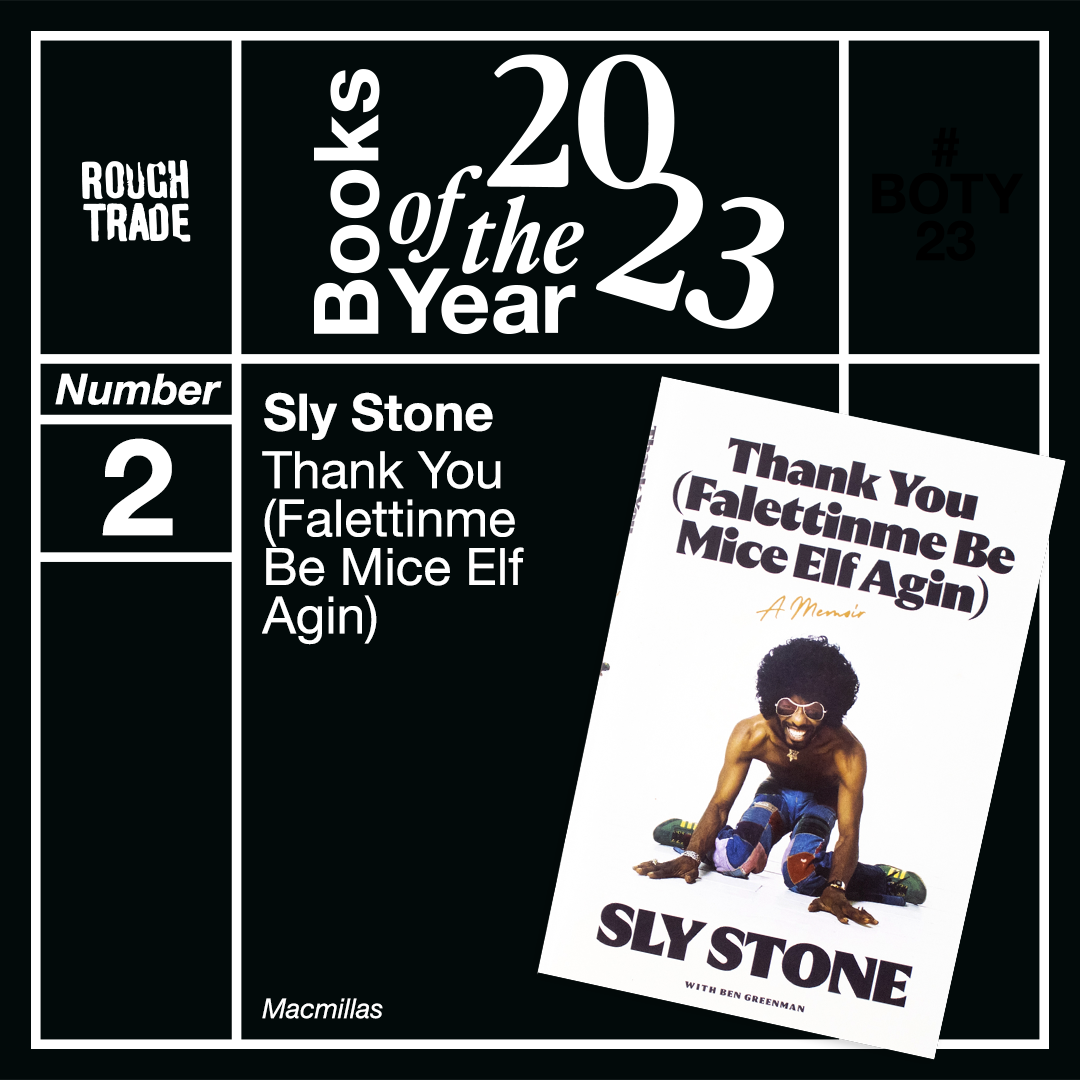 Macmillas
One of the few indisputable geniuses of pop music, Sly Stone is a trailblazer and a legend. He created a new kind of music, mixing Black and white, male and female, funk and rock. As a songwriter, he penned some of the most iconic anthems of the 1960s and '70s, from "Everyday People" to "Family Affair." As a performer, he electrified audiences with a persona and stage presence that set a lasting standard for pop-culture performance.
Yet his life has also been a cautionary tale, known as much for how he dropped out of the spotlight as for what put him there in the first place. People know the music, but the man remains a mystery. In Thank You (Falettinme Be Mice Elf Agin), his much-anticipated memoir, he's finally ready to share his story—a story that many thought he'd never have the chance to tell.
Written with Ben Greenman, who has written memoirs with George Clinton and Brian Wilson, among others, and created in collaboration with Sly Stone's manager, Arlene Hirschkowitz, Thank You (Falettinme Be Mice Elf Agin) includes a foreword by Questlove.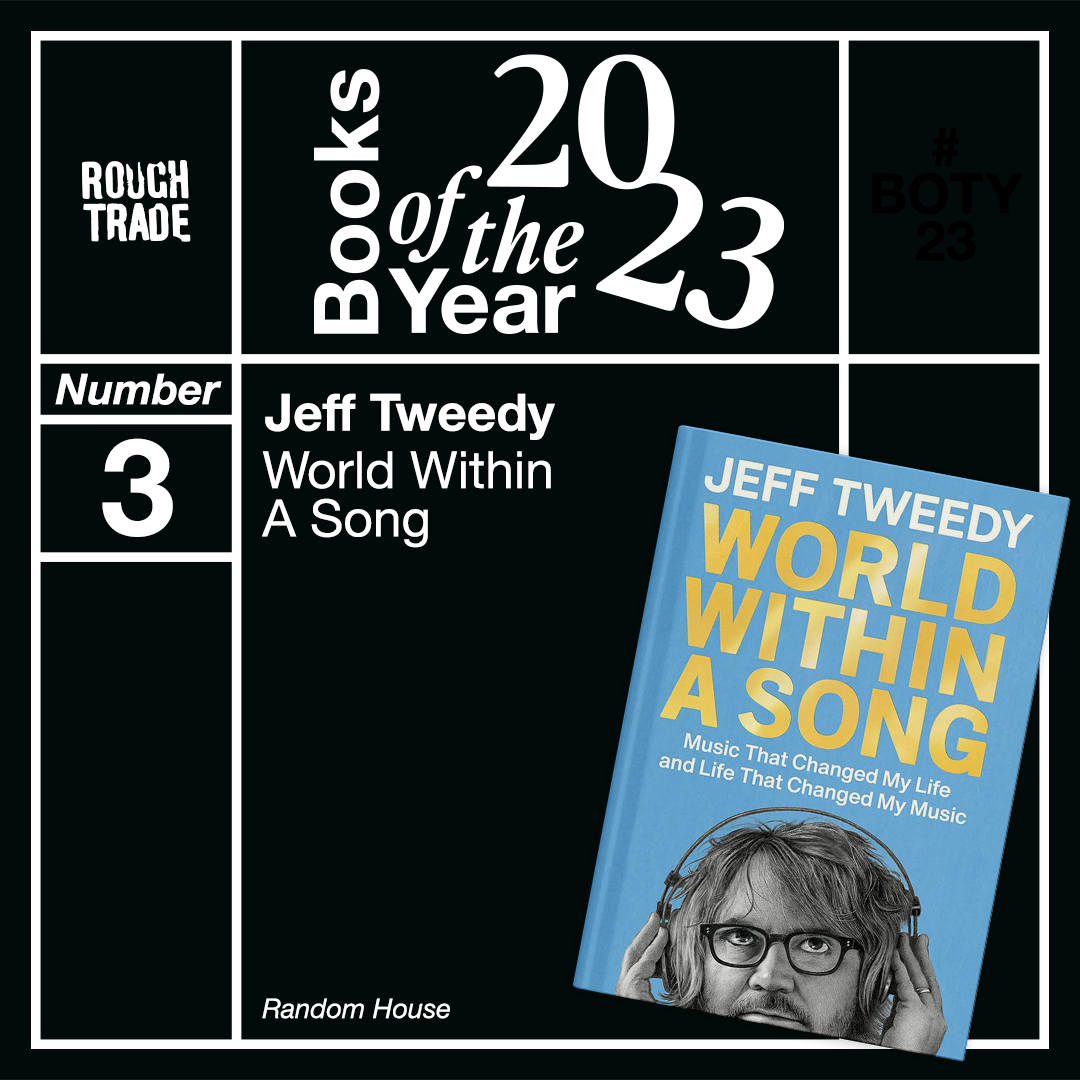 Random House
Signed copies available.
An exciting and heartening mix of memories, music, and inspiration from Wilco front man and New York Times bestselling author Jeff Tweedy, sharing fifty songs that changed his life, the real-life experiences behind each one, as well as what he's learned about how music and life intertwine and enhance each other.
What makes us fall in love with a song? What makes us want to write our own songs? Do songs help? Do songs help us live better lives? And do the lives we live help us write better songs? 
After two New York Times bestsellers that cemented and expanded his legacy as one of America's best-loved performers and songwriters, Let's Go (So We Can Get Back) and How To Write One Song, Jeff Tweedy is back with another disarming, beautiful, and inspirational book about why we listen to music, why we love songs, and how music can connect us to each other and to ourselves. Featuring fifty songs that have both changed Jeff's life and influenced his music—including songs by The Replacements, Mavis Staples, The Velvet Underground, Joni Mitchell, Otis Redding, Dolly Parton, and Billie Eilish—as well as Jeff's "Rememories," dream-like short pieces that relate key moments from Jeff's life, this book is a mix of the musical, the emotional, and the inspirational in the best possible way.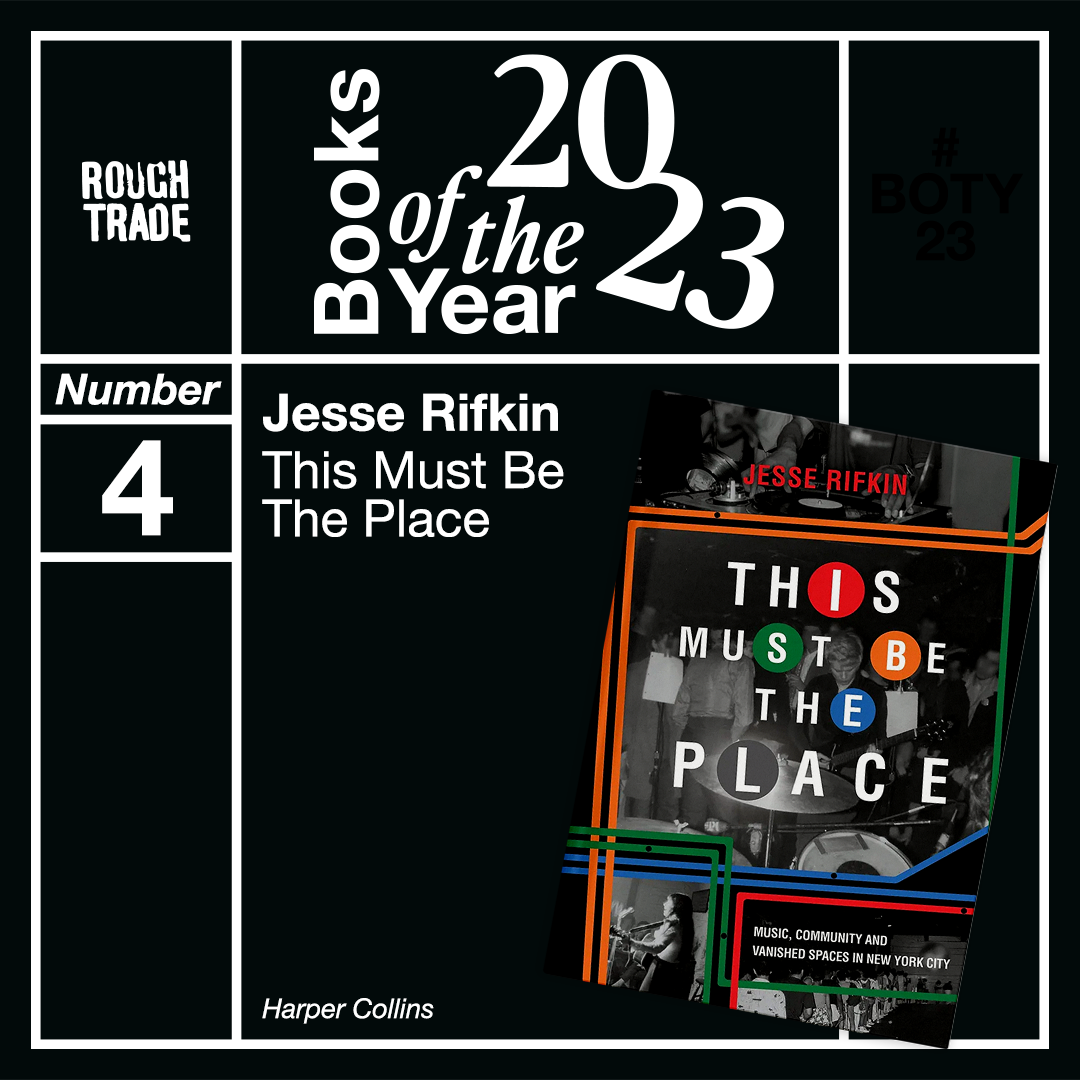 Harper Collins
A fascinating history that examines how real estate, gentrification, community and the highs and lows of New York City itself shaped the city's music scenes from folk to house music.
Take a walk through almost any neighborhood in Manhattan and you'll likely pass some of the most significant clubs in American music history. But you won't know it—almost all of these venues have been demolished or repurposed, leaving no record of what they were, how they shaped music scenes or their impact on the neighborhoods around them. Drawing from over a hundred exclusive interviews with a wide range of musicians, deejays and scenesters (including members of Peter, Paul and Mary; White Zombie; Moldy Peaches; Sonic Youth; Treacherous Three; Cro-Mags; Sun Ra Arkestra; and Suicide), writer, historian and tour guide Jesse Rifkin painstakingly reconstructs the physical history of numerous classic New York music scenes. This Must Be the Place examines how these scenes came together and fell apart—and shows how these communal artistic experiences are not just for rarefied geniuses but available to us all.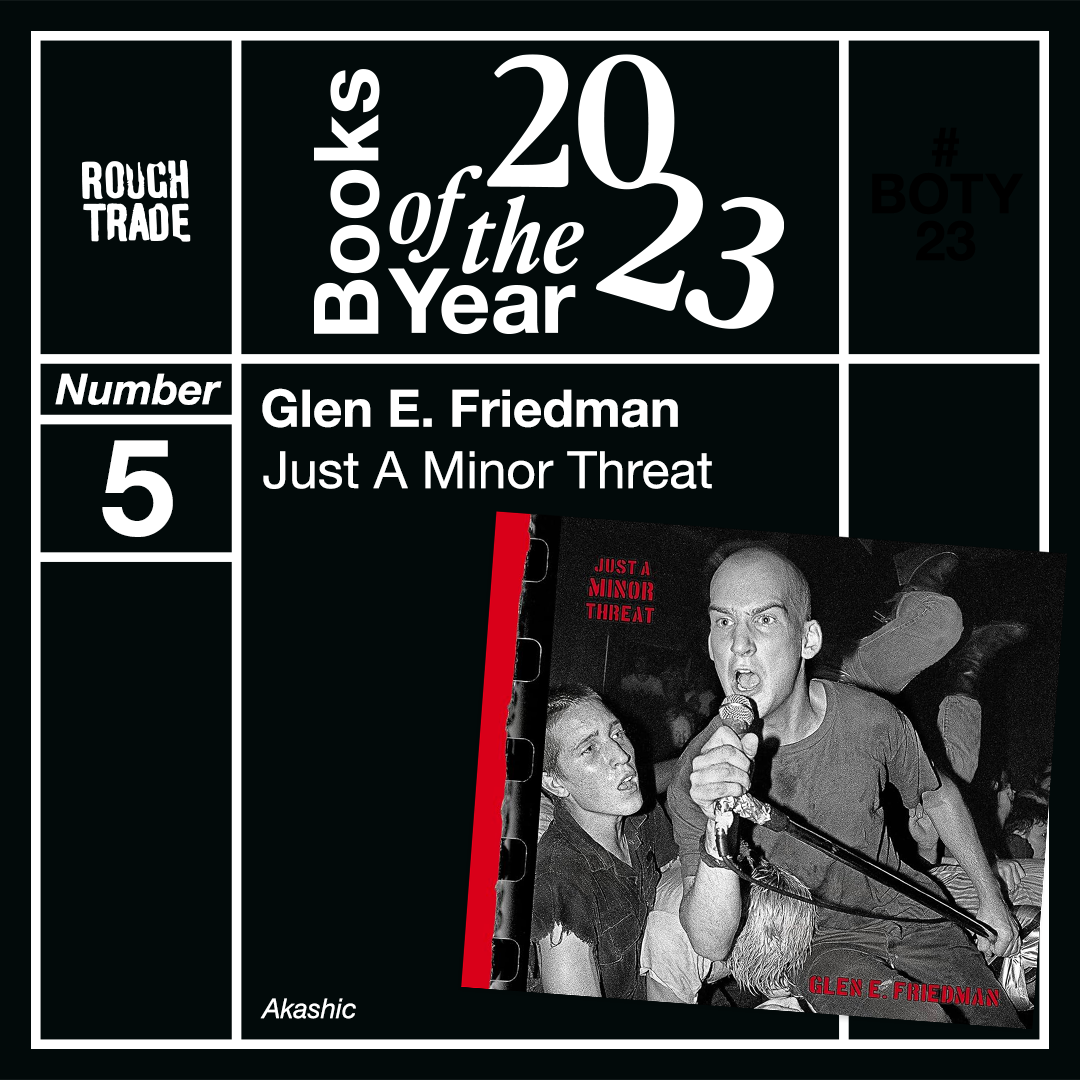 Akashic
This collection includes Glen E. Friedman's most iconic images of Minor Threat, as well as many never-before-seen photographs.
Just A Minor Threat is a book of Glen E. Friedman's most outstanding photographs of the Washington, DC, band Minor Threat, one of the most influential hardcore punk bands in music history. While the book offers Friedman's best-known photographs of the band, most of the pictures in this volume, shot in 1982 and '83, have never been seen before.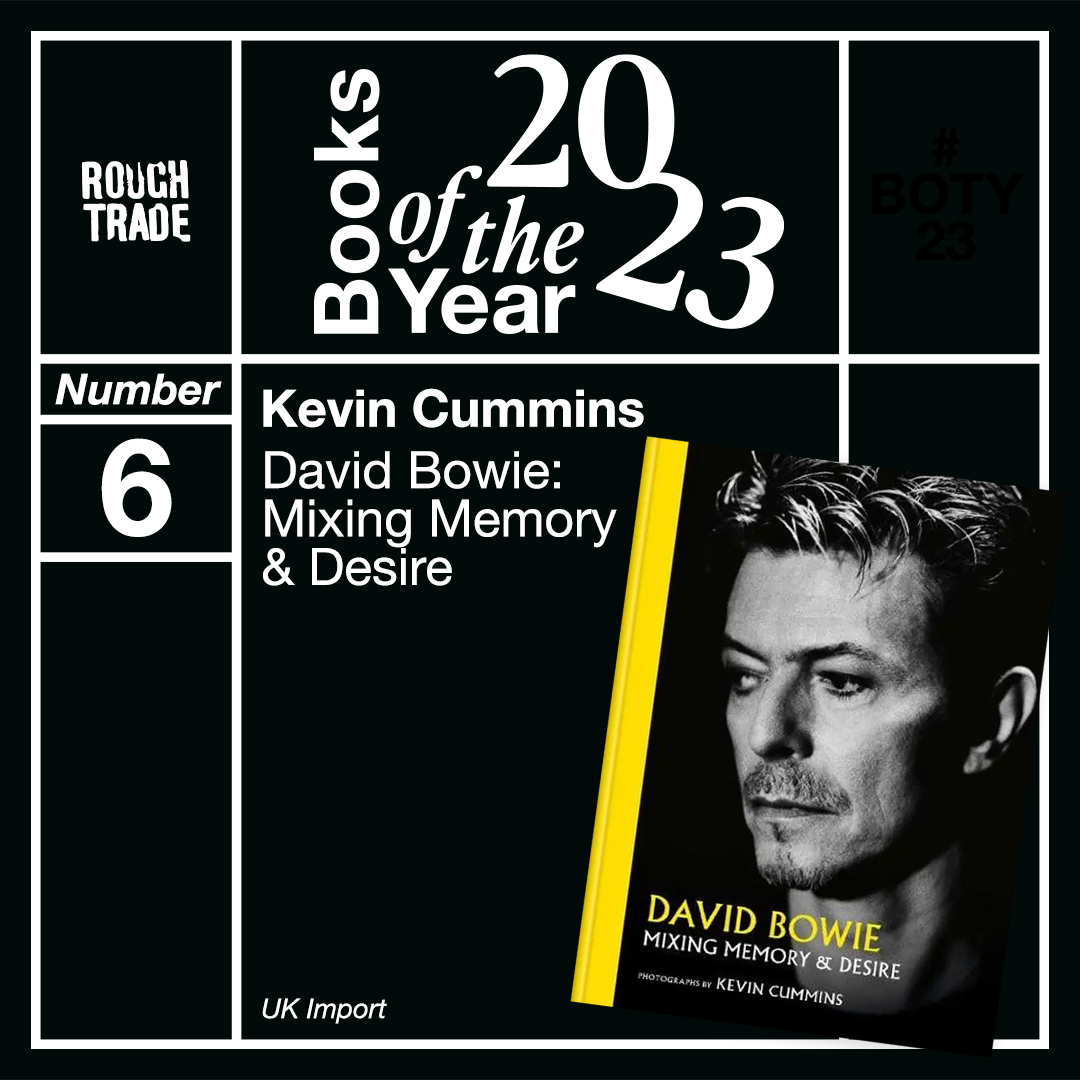 UK Import
Signed copies available.
The career of celebrated photographer Kevin Cummins began on 29th June 1973 when, as a nineteen-year-old photography student, he photographed David Bowie. That image is now in the renowned photography collection of the V&A Museum and marked the beginning of Kevin Cummins' four-decade-long visual chronicle of David Bowie's remarkable career. David Bowie: Mixing Memory & Desire includes some of the best portraits of Bowie ever taken, the majority of which have never been published until now. From those legendary Bowie gigs in the early 1970s, through to a poignant image taken outside his apartment in New York in 2016, Cummins has captured the many faces of Bowie and created a book that is essential for Bowie fans everywhere.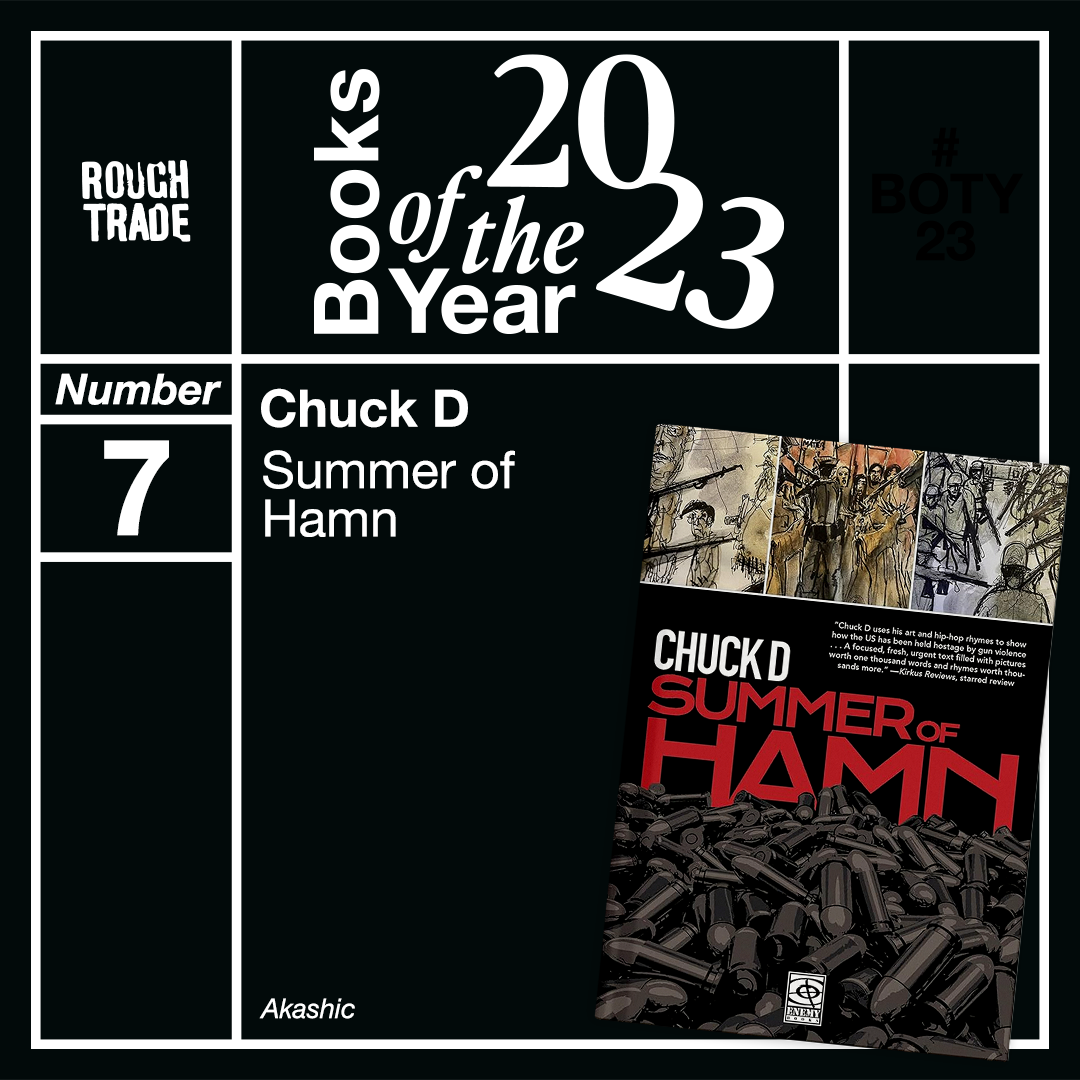 Akashic
Signed copies available.
The tragedy of gun violence is depicted in annotated illustrations that illuminate a society gone hamn; from legendary hip-hop artist Chuck D (Public Enemy, Prophets of Rage, etc.)
"With his latest work of graphic nonfiction, Chuck D uses his art and hip-hop rhymes to show how the US has been held hostage by gun violence and a growing sense of hopelessness . . . A focused, fresh, urgent text filled with pictures worth 1,000 words and rhymes worth thousands more.
— Kirkus Reviews, STARRED review.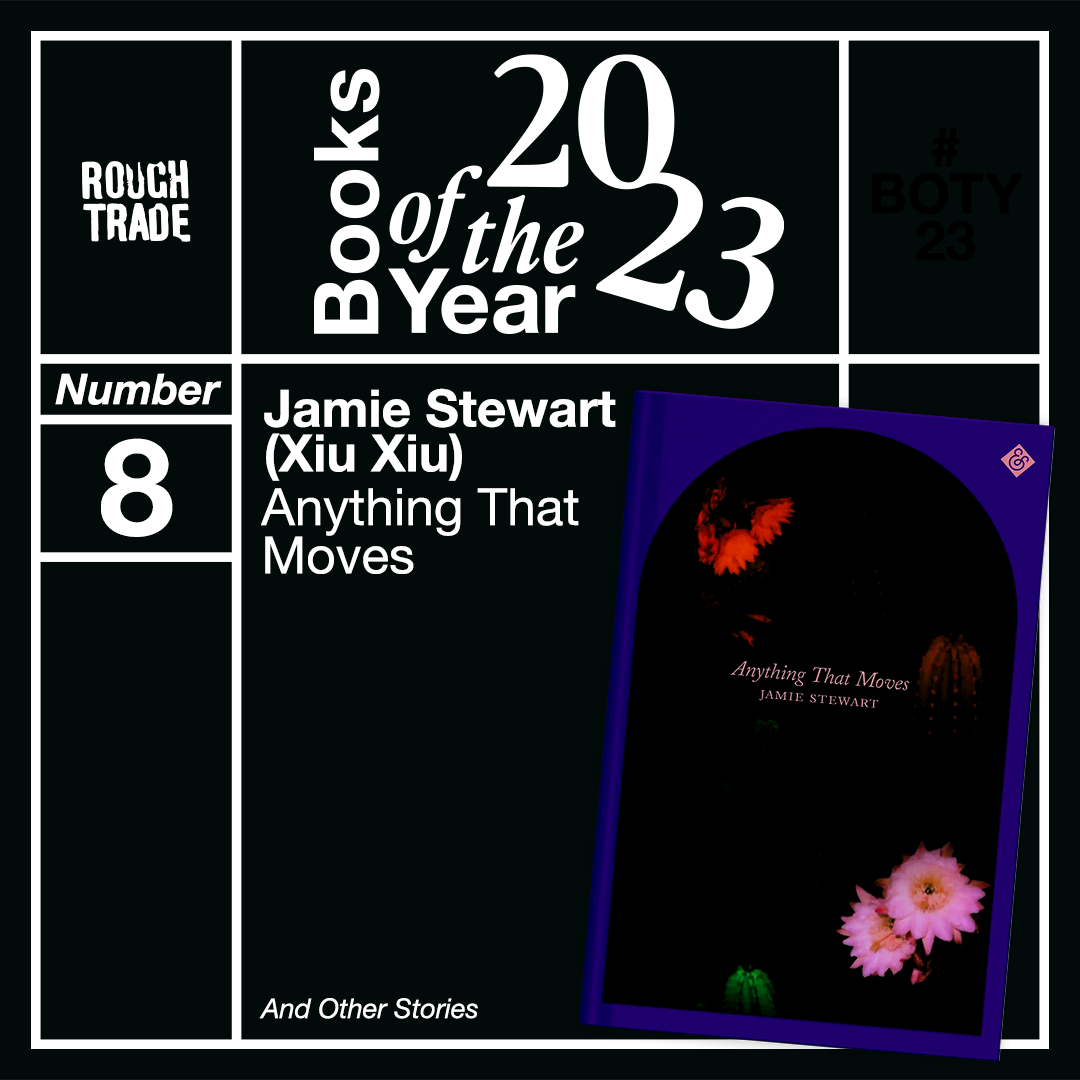 And Other Stories
Signed copies available.
From being caught having their first orgasm by their mum's best friend to being stalked and propositioned by a fundamentalist pastor; from soliciting spanking dates over the Internet to scoring a coveted invitation to a threesome with some elf fetishist neighbors, indie music darling (Xiu Xiu) Jamie Stewart's journey of fleshy self-discovery and queer awakening makes for an extraordinary, cringy, unputdownable epic in miniature, burning always with radical and often shocking self-criticism. A one-of-a-kind exploration of abasement, depravity, joy, and embarrassment (and even joy in embarrassment), Anything That Moves is a series of comic, tragic X-rays of sex. It is funny, erotic, anti-erotic, honest, brave, icky, and hauntingly sad by turns. It demonstrates too how love and forgiveness can percolate around the edges of even the most traumatic relationships. Stewart's band Xiu Xiu has been called 'self-flagellating', 'brutal','shocking' and 'perverse', but also 'genius', 'brilliant', 'unique', 'imaginative' and 'luminous'. Readers can expect nothing less from Jamie Stewart's debut, Anything That Moves.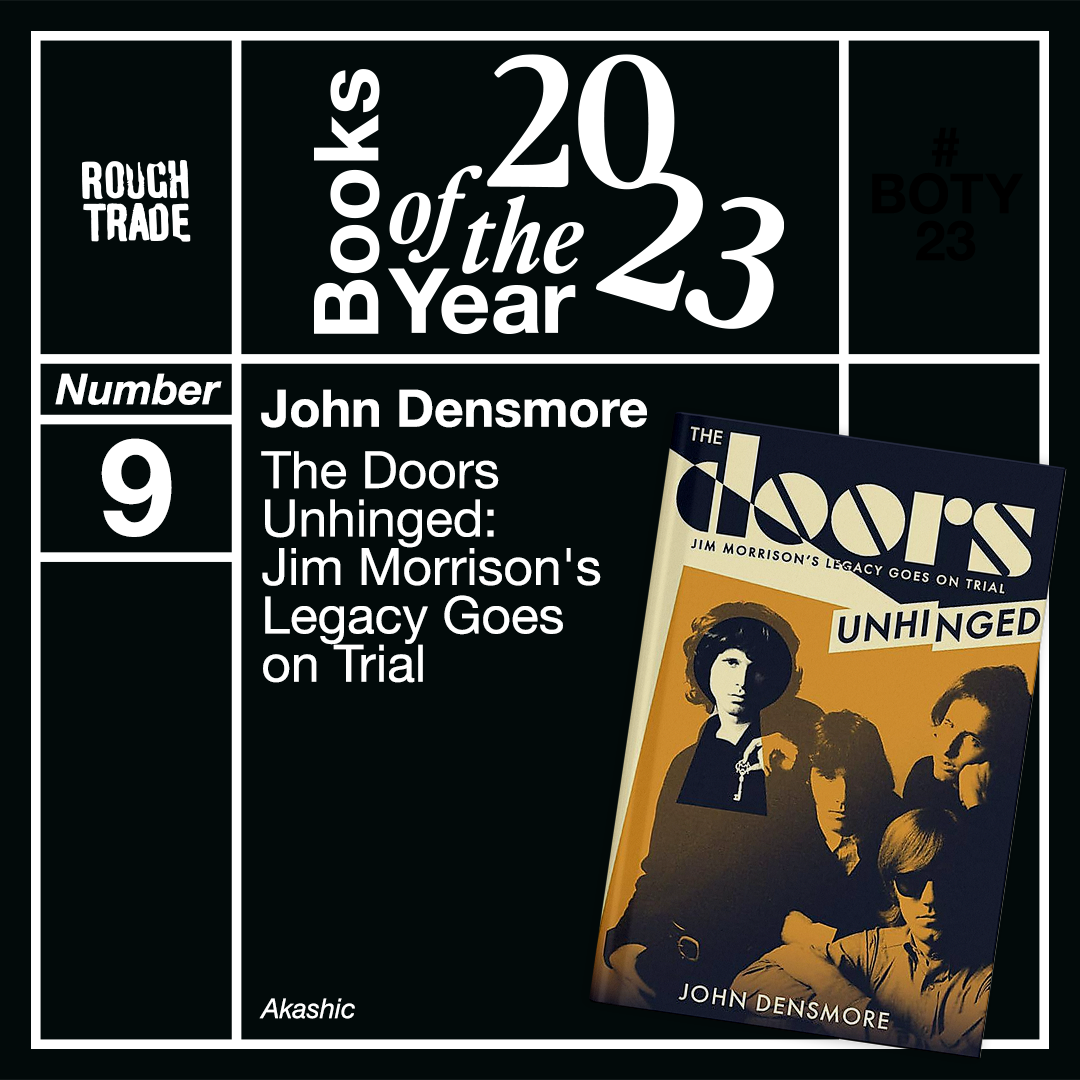 Akashic
Signed copies available.
Legendary drummer and founding member of The Doors, John Densmore unpacks the intersection of art and commerce in this deeply principled middle finger to greed.
"There are some of us out there who still have principles and cannot be bought. John Densmore is one of them. He is not for sale and that is his gift to us."
—Tom Waits
In The Doors: Unhinged, New York Times best-selling author and legendary Doors drummer John Densmore offers a powerful exploration of the "greed gene"—that part of the human psyche that propels us toward the accumulation of more and more wealth, even at the expense of our principles, friendships, and the well-being of society. This is the gripping account of the legal battle to control The Doors' artistic destiny. In it, Densmore looks at the conflict between his bandmates and him as they fought over the right to use The Doors' name, revealing the ways in which this struggle mirrored and reflected a much larger societal issue: that no amount of money seems to be enough for even the wealthiest people.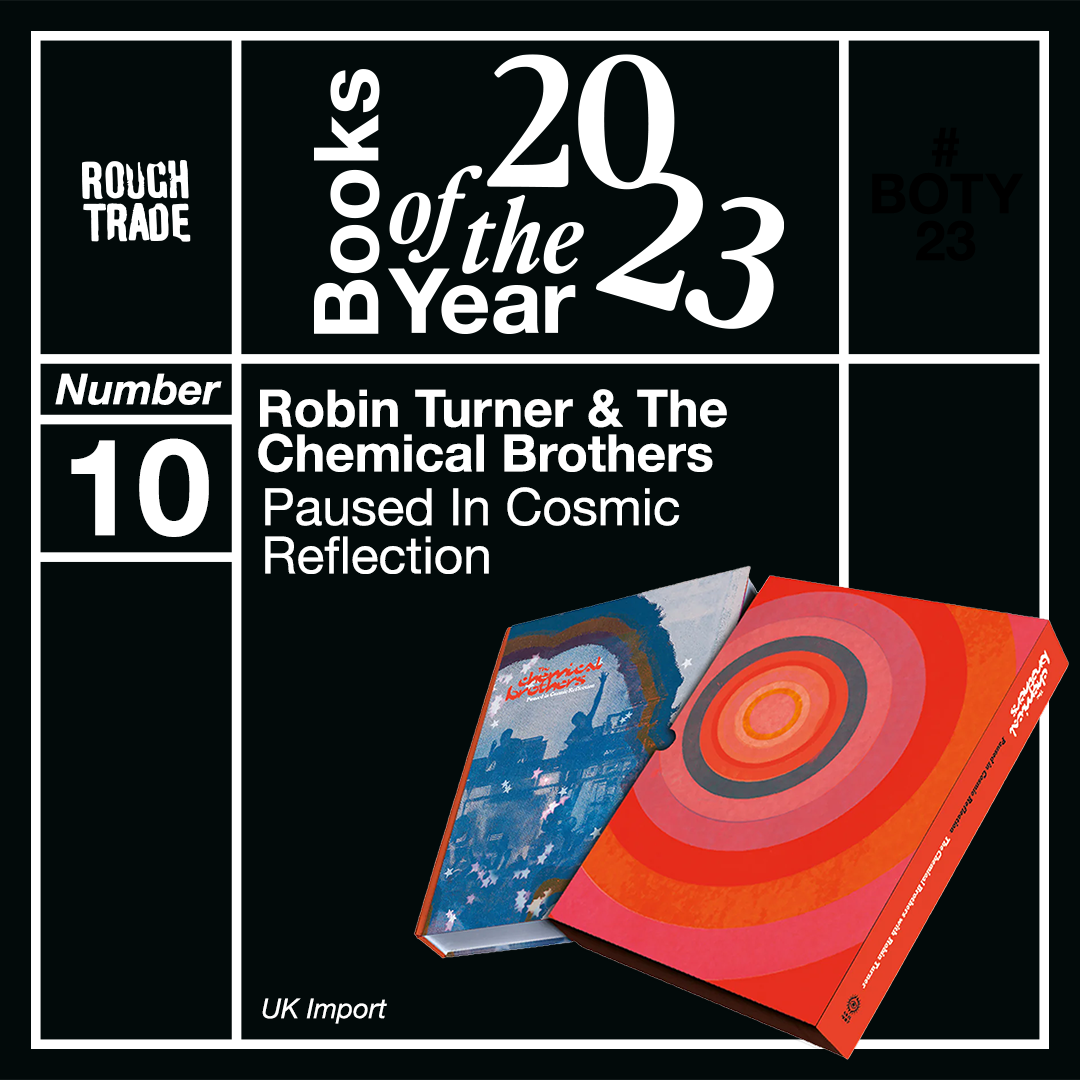 UK Import
Signed copies available.
Paused in Cosmic Reflection is the definitive story of The Chemical Brothers. Told in the voices of Tom Rowlands and Ed Simons, with contributions from friends and collaborators, it is fully illustrated with 30 years of mind-bending visuals.