"…if there was any list we feel comfortable and excited to be number one on it's Rough Trade's."
Whether you're descending loyally upon your local venues or hunkering down with your turntable as 2023 draws to a close, we're sure you'll experience a moment of reflection on your own year in music and likely, there'll be much crossover with our own. Because our Albums of the Year list draws not only on the exceptional projects our staff have praised, but also what you guys have applauded in your hundreds, across our counters and online. Rough Trade is a community after all.
Here are our favourite albums from 2023, including some very special Rough Trade Exclusive editions.
WIN 16 SIGNED LPS AND HELP SAVE A LIFE.
Enter our charity prize draw
for your chance to win 16 individually signed vinyl albums, with all proceeds donated to Campaign Against Living Miserably (CALM).
Illustrations by Iris McConnell
---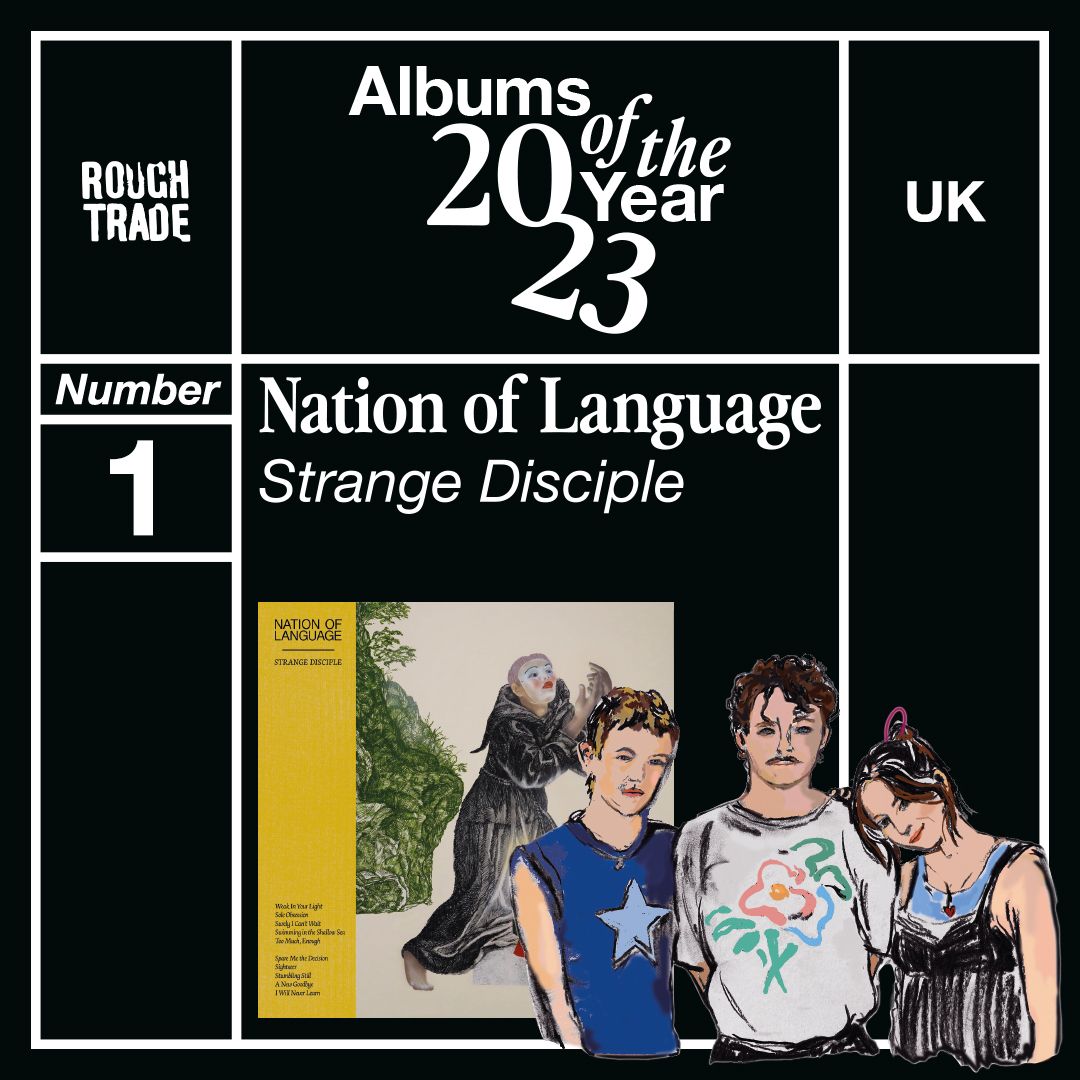 Album of the Year
"When we first heard we might be in the running for Album of the Year our initial reaction was visceral fear of sitting in the #1 spot, afraid that it would mean, in mathematical terms, that it must all be downhill from here. But if there was any list we feel comfortable and excited to be number one on it's Rough Trade's. It's a place we can go and hang out, a place we've seen memorable shows, a place we happily walked copies of our first record to in the early days so that someone like us might see it stocked there and take a chance on it. We know our audience is also very aligned with the ethos of Rough Trade. So we'll enjoy this moment and choose not to crumble under the pressure and tweets saying "who the hell is Nathan Language and why isn't *my* favourite band in the top spot!?"

Nation of Language
From lovesick lockdown cult heroes to Rough Trade Album of the Year, it's the ultimate Cinderella story, but this time the Fairy Godmother has turned a pumpkin into a sweet Minimoog synthesiser. Ice-cold analogue sounds perfectly harmonising with a white-hot passion, barely able to contain all the heartbreak and euphoria. Strange Disciple is more dynamic, more experimental, more rewarding, more shatteringly beautiful than anything this Nation of Language have done before. Excuse me while I cry on the dance floor for the 81st time this year.
Paddy, Office
EXCLUSIVE: Strange Disciple (Rough Trade Exclusive yellow marble vinyl) + Strange Disciple Companion Piece (Rough Trade Exclusive green marble vinyl)
READ NOW: Where I Am Now – Nation of Language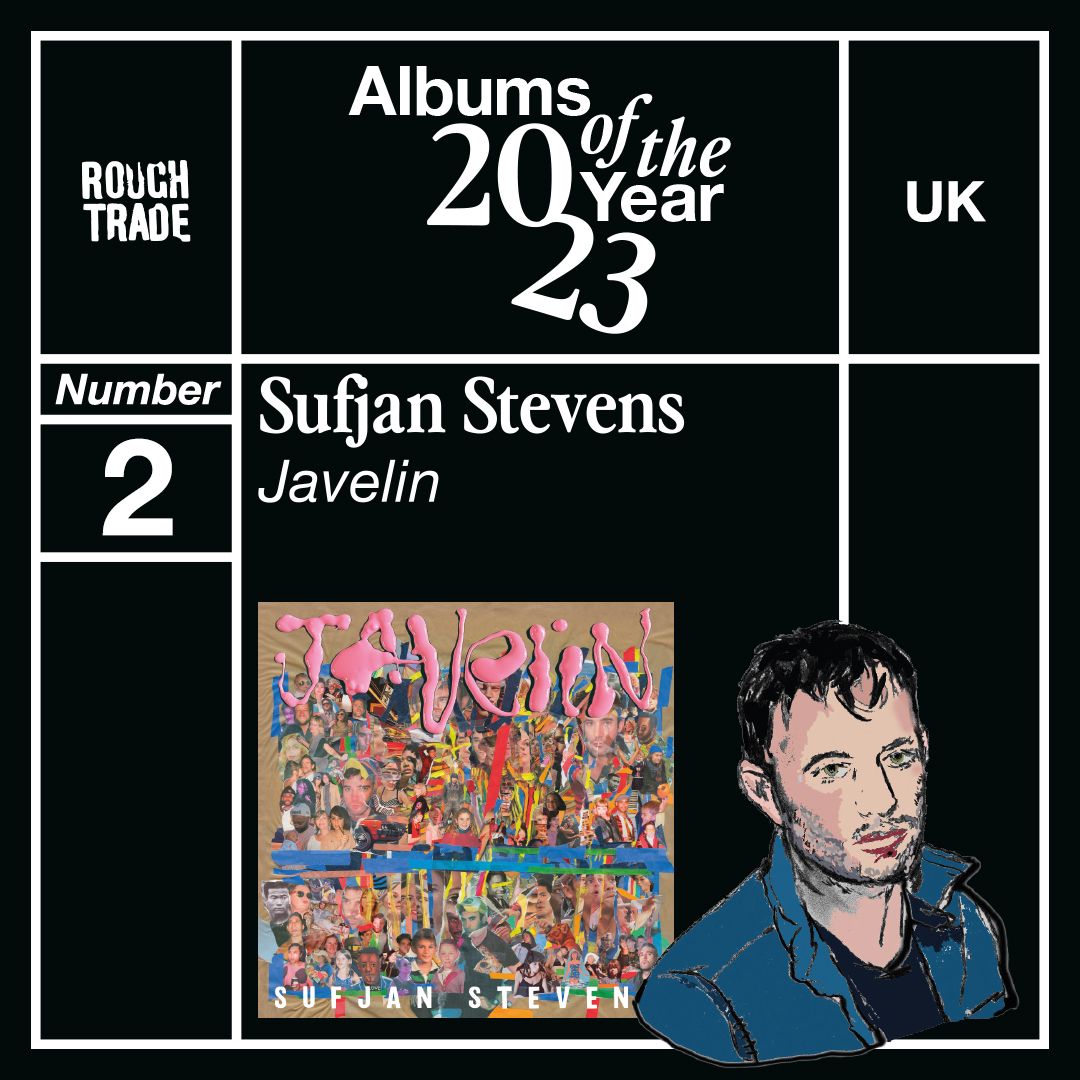 Sufjan Stevens' tenth solo long-player runs with a pinch of all that has come before. Any initial reservations are quickly extinguished during the double-whammy of A Running Start and Will Anybody Ever Love Me?, each ranking amongst the best in Sufjan's arsenal, the latter sounding like it could easily nestle amongst Carrie & Lowell. Everything That Rises only solidifies proceedings, and you're now nearing halfway to muttering the word "classic" again.
Jamie, Office
EXCLUSIVE: Javelin (indies yellow vinyl + Rough Trade Exclusive bonus CD) + 5 Unreleased Songs (Rough Trade Exclusive 12″.)
READ NOW: Sufjan Stevens' Greatest Albums Ranked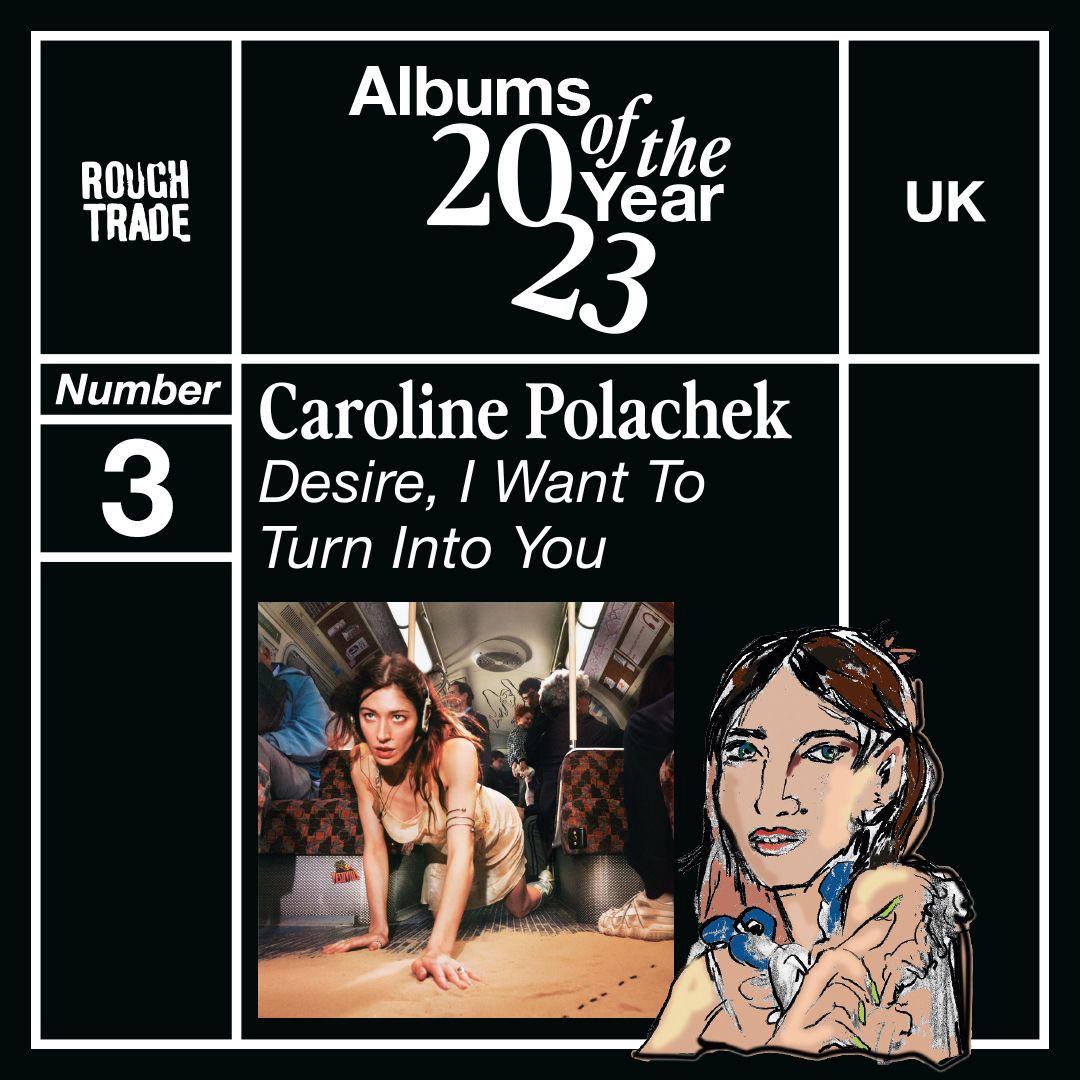 Perpetual Novice
You can put this album on at any time, any location and find new meaning and admiration with each listen. A diligently crafted sonic world best served at a silly party with friends and strangers attempting to reach Caroline's virtuosic voice and stumbling around to the lavish and euphoric arrangements. CP really changed the game with this one.
Mathilde, Office
EXCLUSIVE: Rough Trade Exclusive clear vinyl.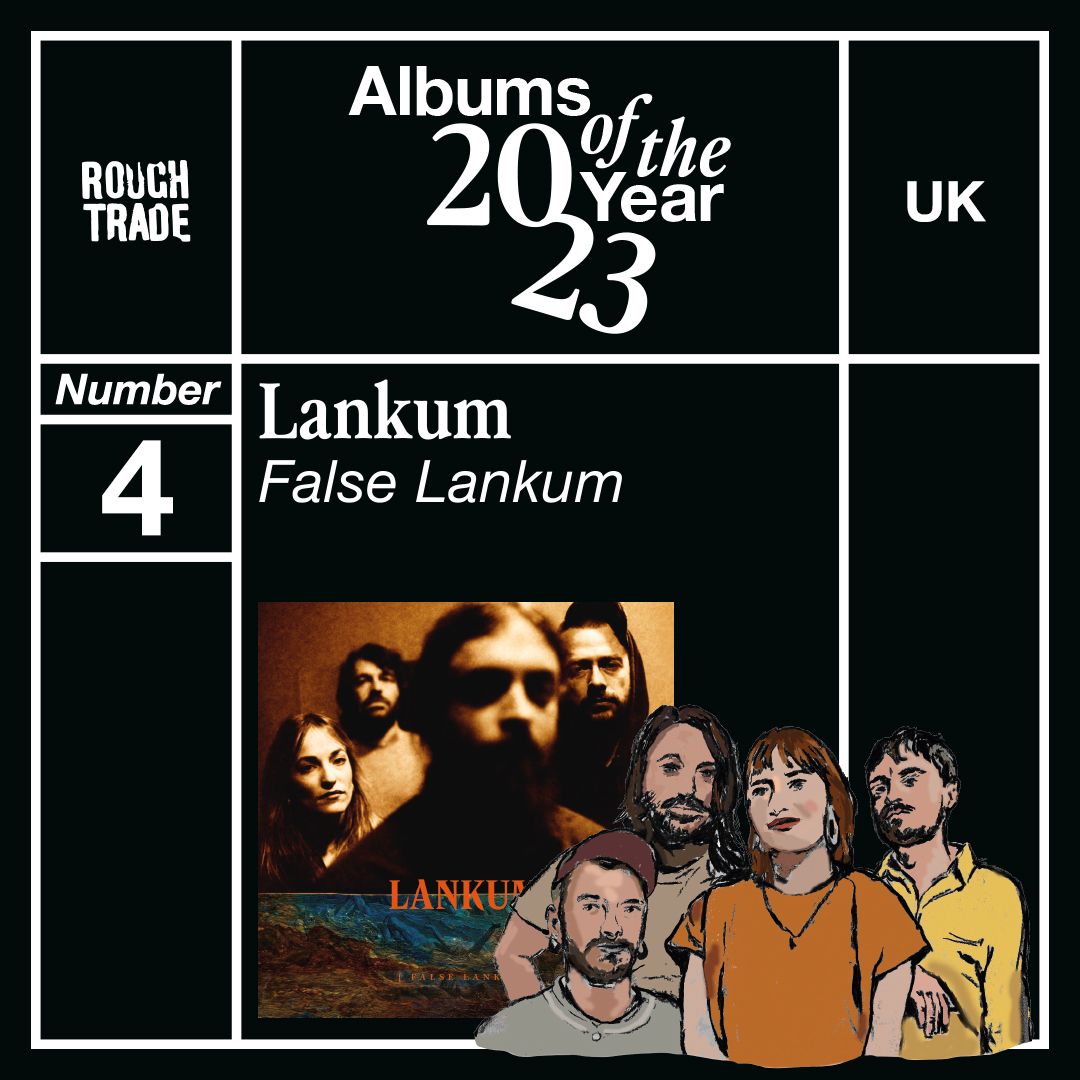 It's pretty wild how I found this album so unsettling and calming at the same time. It's a hypnotic mix of experimental folk and drone, leaving you with an overwhelming dense and ominous atmosphere. Along with amazing vocals and production, Lankum have an emotional landscape that varies from Celtic fever dream to calming and comforting melancholy. I love this kind of music, transportive and spiritual. Perfect to listen to in a dark room, or even better, on a fishing trawler outside of North Dublin (if you've got one). An amazing project to say the least. Not one for parties, melancholy at its best. Very nice if you ask me.
Charlie, Office
EXCLUSIVE: False Lankum (Rough Trade Exclusive mirror board sleeve edition) + Live in Dublin (Rough Trade Exclusive vinyl).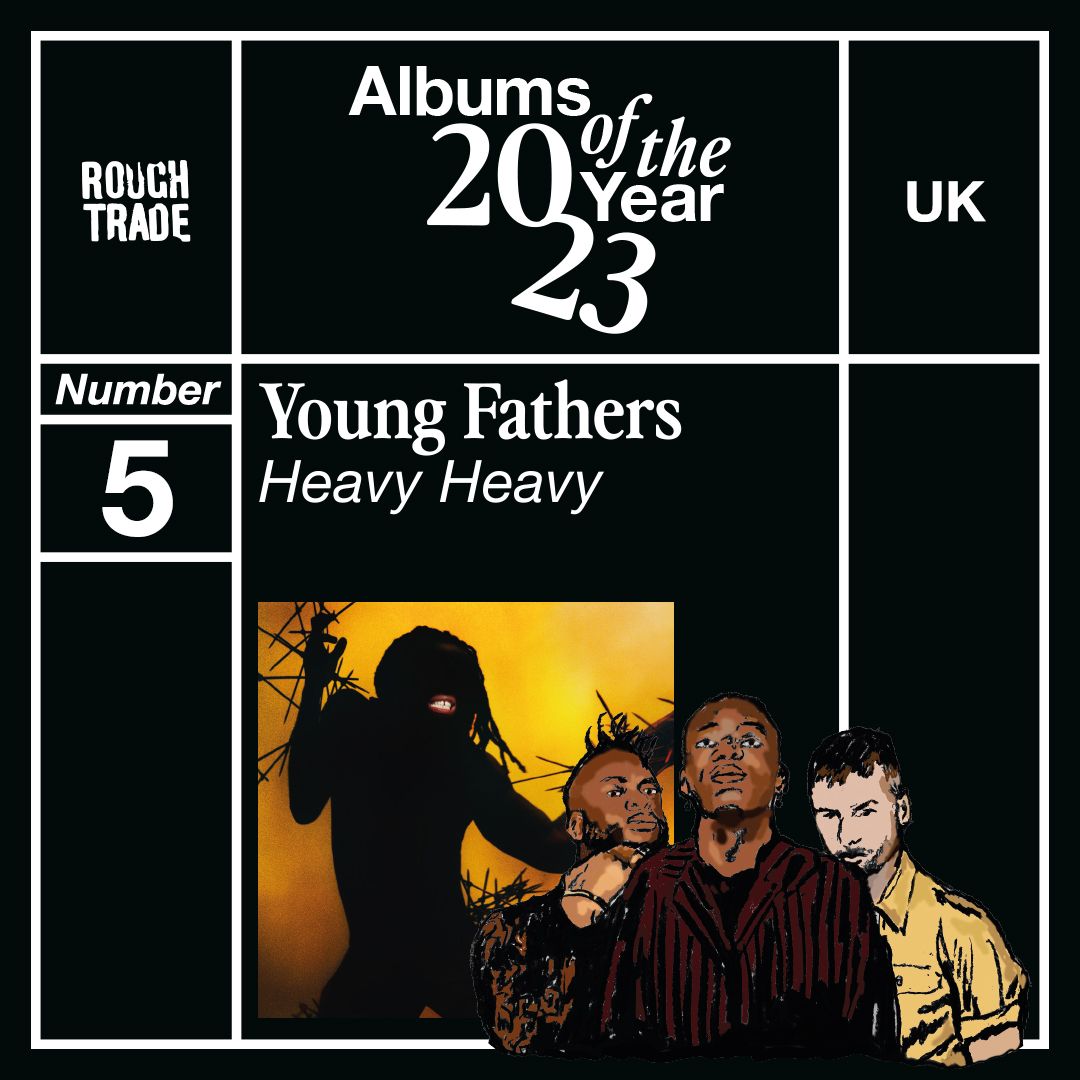 I have followed Young Fathers from their original mixtapes, through Dead, WMABMT, Cocoa Sugar and now the absolutely stunning Heavy Heavy. They are constantly evolving their unique and undefinable sound, call it hip hop, pop, spiritual, electronic, dance or something else entirely. Each piece of music they create breathes an extraordinary new lease of life into a different genre. Their live performances are renowned; you can't simply buy the album and listen to it: Heavy Heavy needs to be experienced. The energy brought to the stage by Alloysious, Kayus and 'G' take their music to another level, it's infectious and at times unpredictable. I challenge anyone to listen to I Saw and not move their body. I eagerly await their next venture.
Locks, Rough Trade East
EXCLUSIVE: Heavy Heavy (Rough Trade Exclusive pink vinyl + foldout poster) + Live in Paris (Rough Trade Exclusive white 10")
READ NOW: Shoplifting with Young Fathers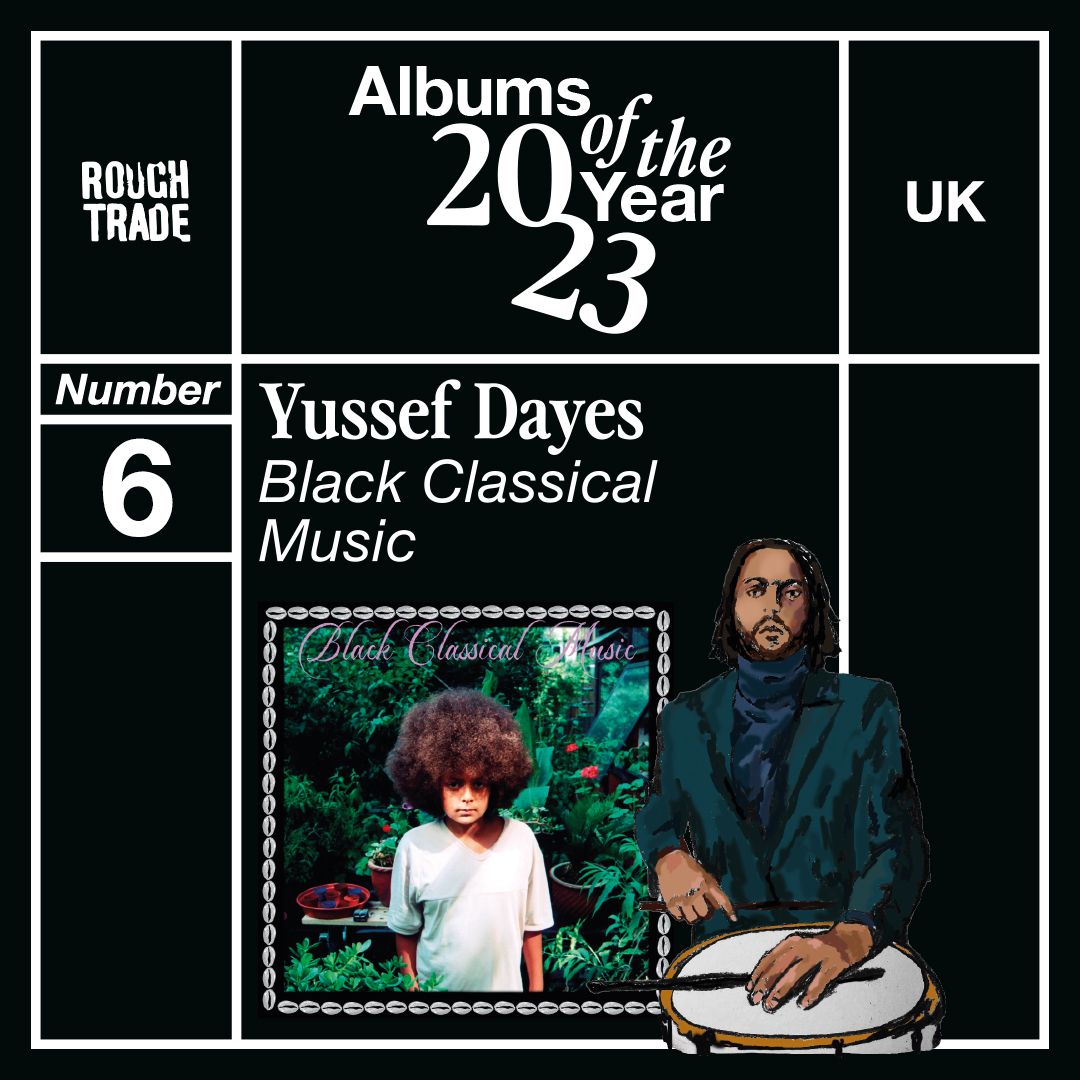 An opening statement but not an introduction, Yussef Dayes' phenomenal debut solidifies what we already knew about the talented multi-instrumentalist: his art derives from raw individuality. Building on the already solid foundations of his releases so far, Black Classical Music sees Dayes create with renewed purpose, inspired by his growing family (fatherhood and new musical partnerships), his eclectic taste and traditional jazz flavours.
Georgia, Office
EXCLUSIVE: Black Classical Music (Rough Trade Exclusive mint green vinyl) + Live from Malibu (Rough Trade Exclusive vinyl)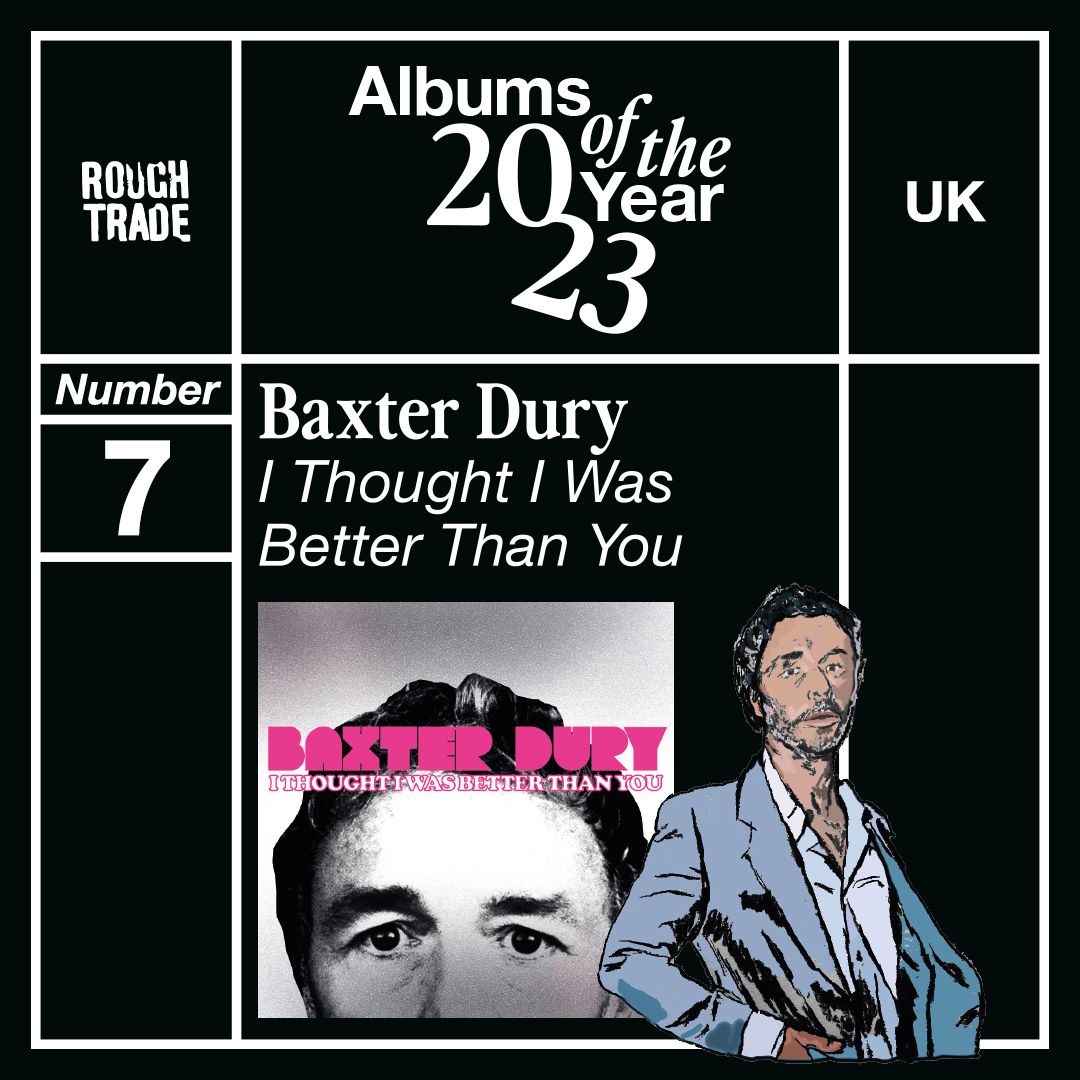 Back in June we were asked to write about Albums of the Year So Far; now it's the end of the year and I'm still choosing the same album… Usually I manage to squeeze everything I can out of an album within a week or two; with I Thought I Was Better Than You this definitely hasn't been the case – in fact the opposite is true. Each listen still grips me like the first time I stuck it on whilst on the bus into work. Baxter Dury's delivery is still equal to none, the humour and sadness provoking the same reaction after each rotation at home. These days, nobody else is doing (and can do) what Baxter is doing.
Matt, Rough Trade East
EXCLUSIVE: I Thought I Was Better Than You (Rough Trade Exclusive vinyl) + I Thought I Was Better Than You Megamix (Rough Trade Exclusive pink 12")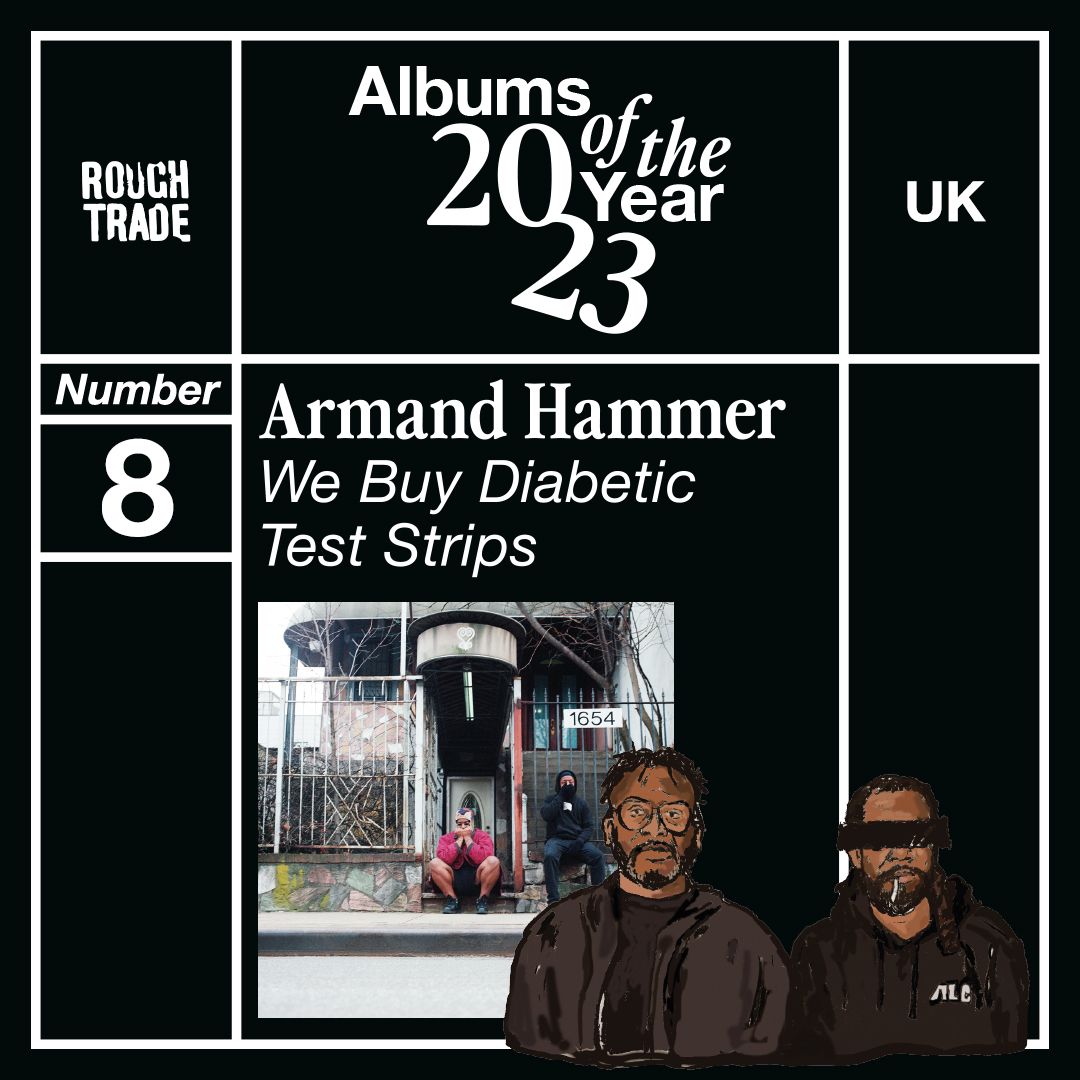 I've been following Armand Hammer since Thom Yorke placed the song Ramesses II from their fourth studio album Shrines on one of his In the Absence thereof… mixes back when that album was released. I was instantly struck by the way the two rappers chose to ride the beat and the density of their raps. On this new album they have amassed a line-up of producers who compliment their style perfectly, from the abrasive JPEGMAFIA tracks that bookend the project and set the template for the album as a whole to the stuttering beat provided by frequent Billy Woods collaborator Kenny Segal to my personal favourite track produced by EL-P from Run the Jewels with it's immensely satisfying vocal loop and distorted, driving drum sample. Armand Hammer have reached the next level with this one.
Jack, Rough Trade West
EXCLUSIVE: We Buy Diabetic Test Strips (Crime Scene edition vinyl) + Scientist Remix (Rough Trade Exclusive 7")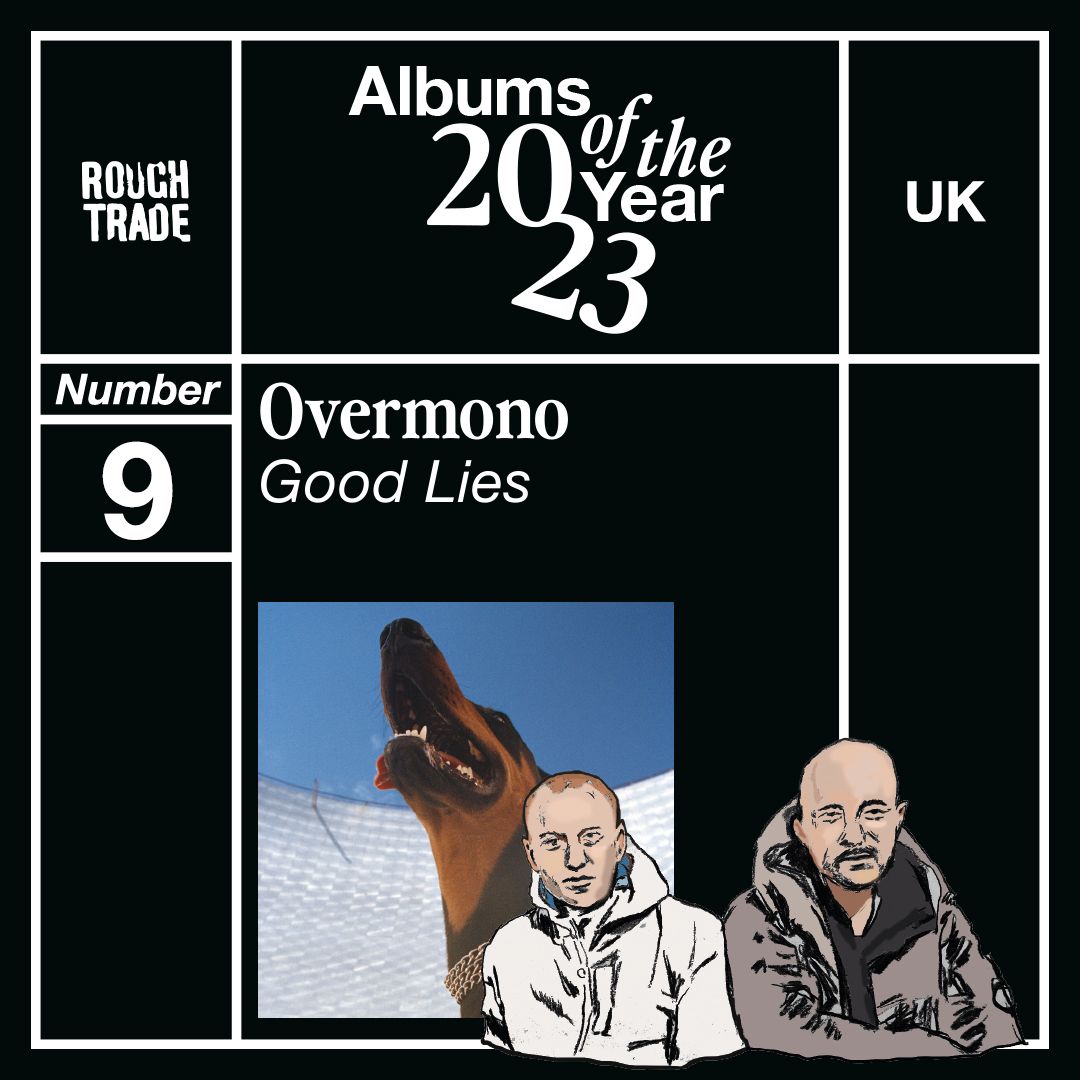 The last few years have been pretty massive for Overmono – sold-out global tours, packed-out festival tents, an unstoppable string of stone-cold singles, and the most important moment of them all, a debut album. We celebrated the release of Good Lies back in May with two parties in London and Bristol, and with supporting sets from the likes of Giant Swan and Tia Cousins, 450 lucky ravers were able to see Overmono in an intimate club setting, an experience that arguably is slightly different to seeing them headline The Warehouse Project to 10k people. I hope we don't have to wait another seven years for the second album, but if recent singles Freedom 2 and Blow Out are anything to go by, they're definitely not slowing down anytime soon.
Dylan, Office
EXCLUSIVE: Good Lies (Rough Trade Exclusive sky blue vinyl) + Everything You Need (Rough Trade Exclusive white 12")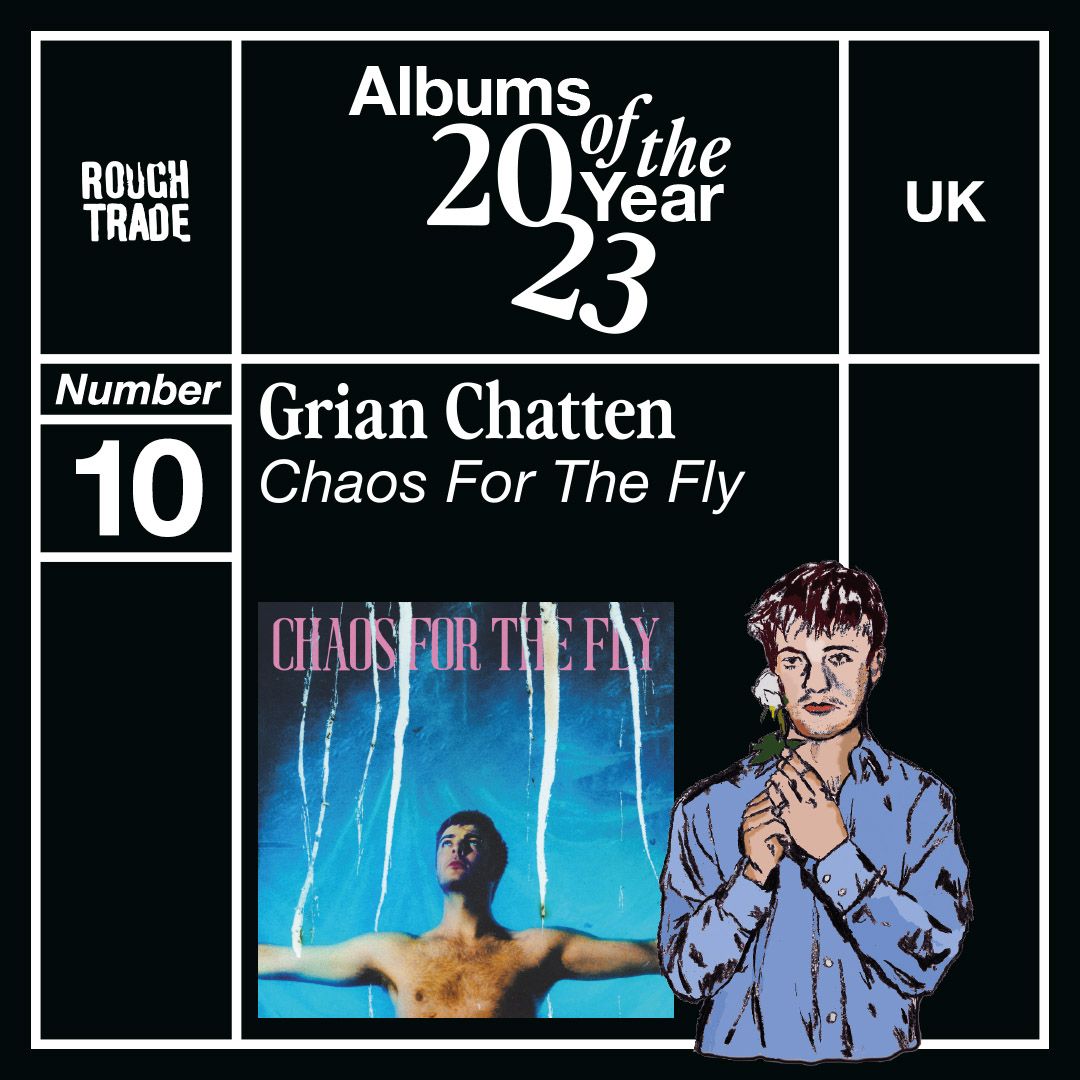 Parking the post-punk powerhouse that is Fontaines D.C. and delving into his inner Cohen, Grian Chatten becomes the storyteller in his debut solo project. His unmistakable vocal and delivery roams through fields of synths, strings, acoustic charm and even a hint of trip-hop along with the occasional and complimentary backing vocals of fiancée Georgie Jesson. Bleak and gloomy at times, some of the haunting melodies could be the soundtrack to a funeral, yet so vibrant in others. The country swing on track Bob's Casino is the perfect example of Chatten's versatility showcased throughout the journey on this record. Ever-evolving as an artist, you have to doff your cap and admire the graft.
Jordan, Warehouse
EXCLUSIVE: Chaos For The Fly (Rough Trade Exclusive alternative sleeve on transparent blue vinyl).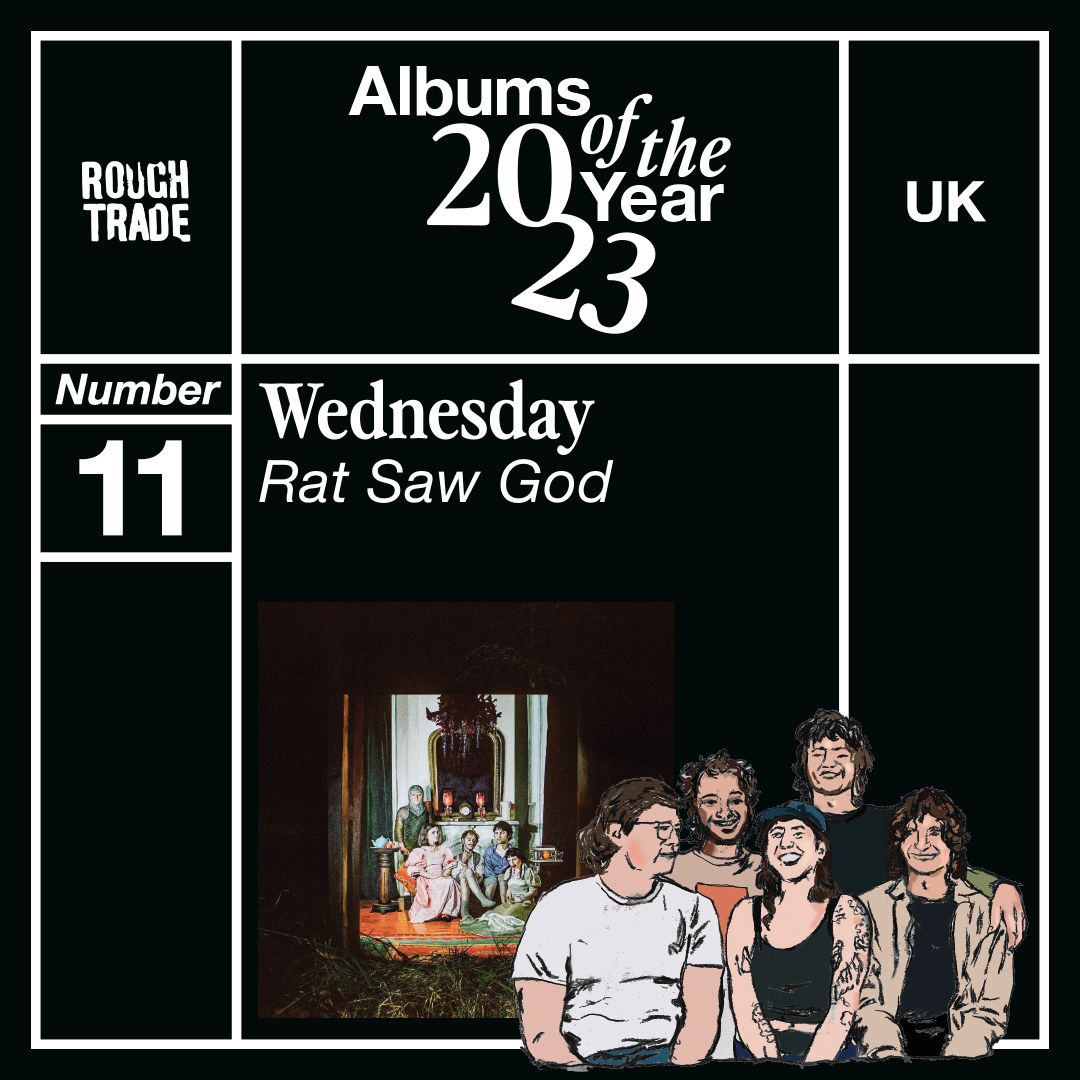 North Carolina's Wednesday keep their alt-rock country cool across a confessional, wildly enjoyable set of songs packed with portraits of youth amid vivid songwriting and powerhouse anthems (and not a mid-week slump in sight). Absolutely bloody bangin'.
Emily, Office
EXCLUSIVE: Rat Saw God (Rough Trade Exclusive clear bubblegum vinyl) + Live From WXPN (Rough Trade Exclusive opaque pink 12")
READ NOW: 10 Minutes with… Wednesday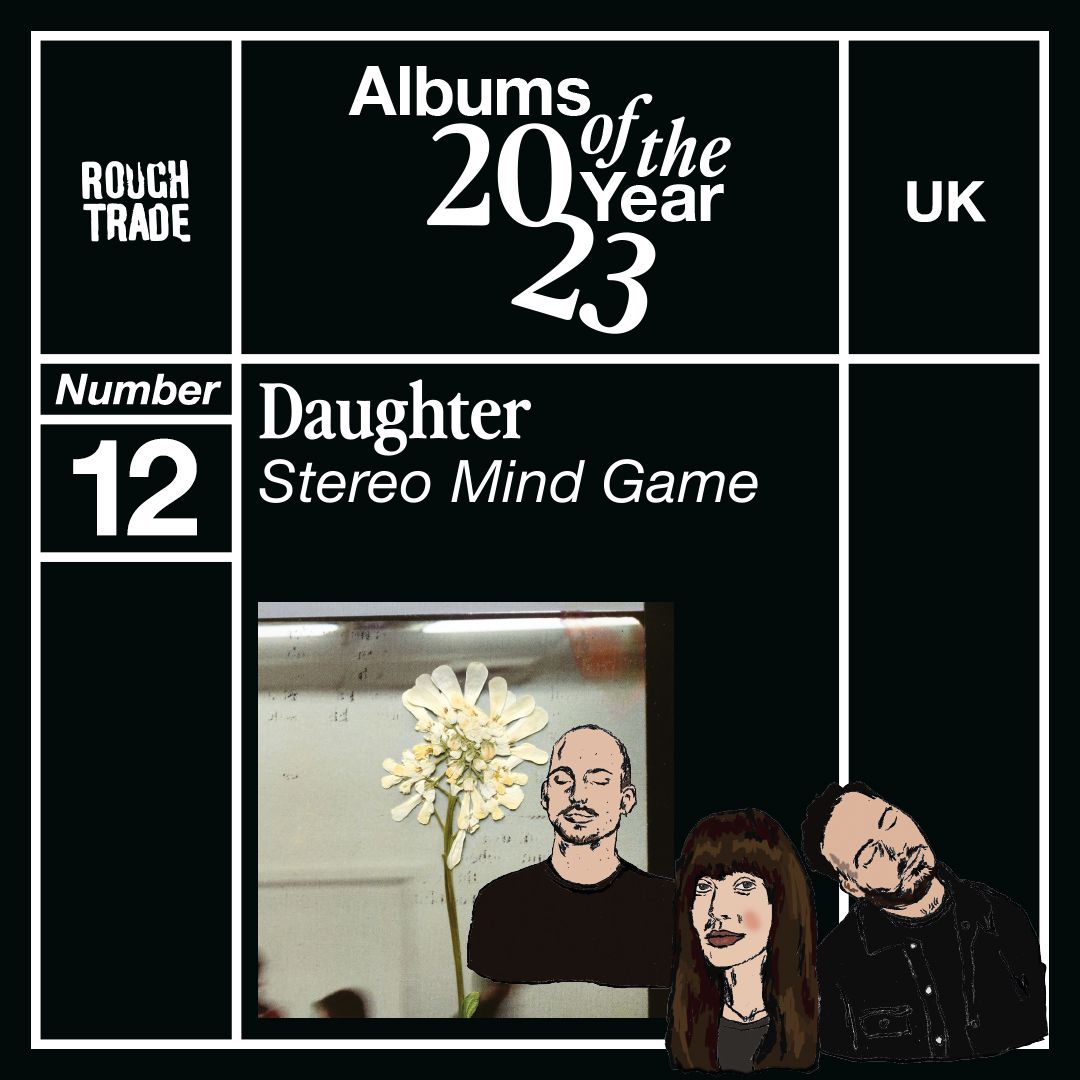 Daughter's first album in seven years, Stereo Mind Game is a nod towards their moody folk roots, and a presentation of how far they have come within an indie rock arrangement. With haunting string arrangements, vocalist Elena Tonra's calm, cool vocals, paired with heartbreaking lyricism – leads us through a journey of connection and distance. It's very hard not to fall in love with this album. Daughter are back, bigger and brighter than ever.
Kerenza, Rough Trade East
EXCLUSIVE: Stereo Mind Game (Rough Trade Exclusive marbled white/brown vinyl)
READ NOW: Album of the Month – Daughter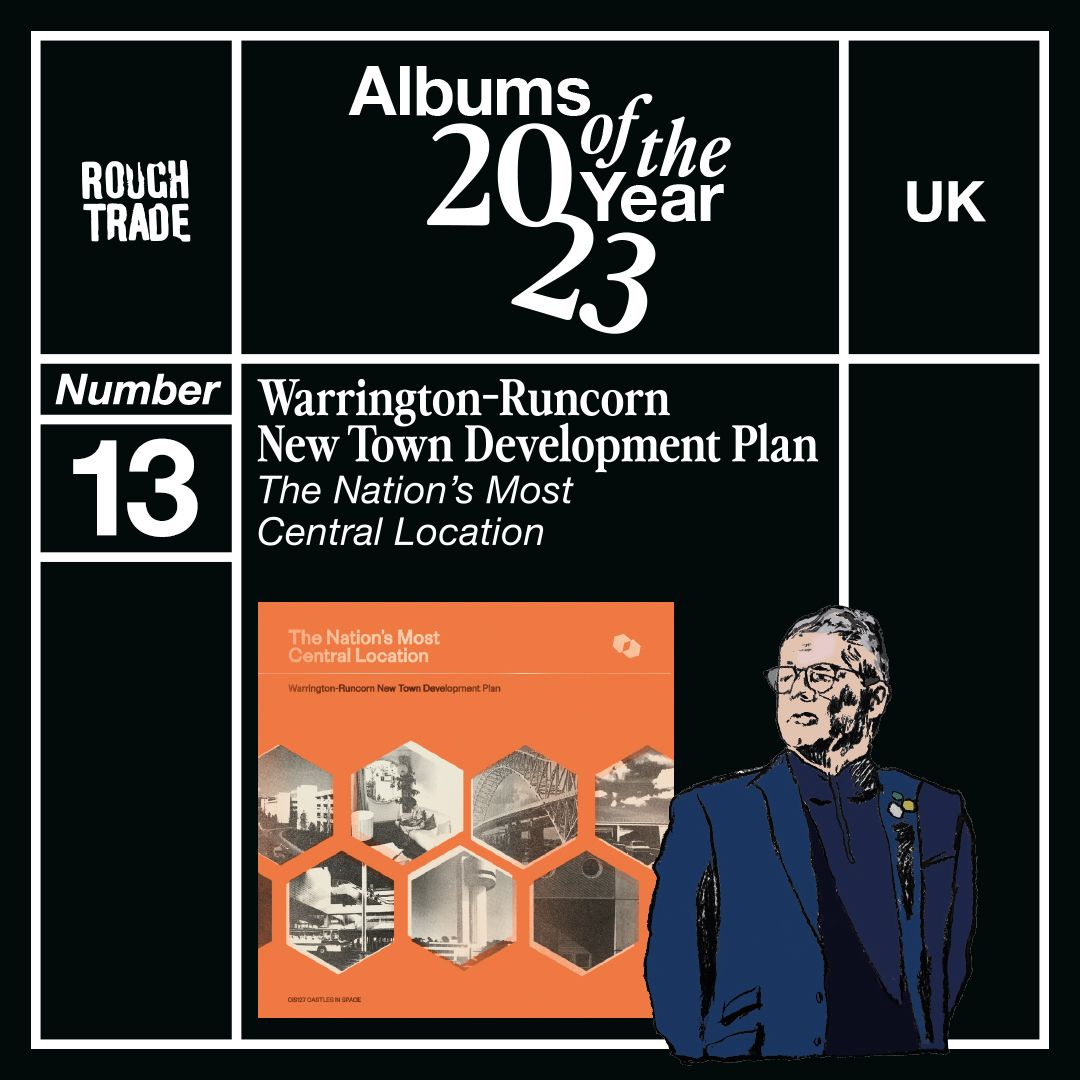 A synth swelling, drone-telling release that succeeds in encompassing all things industrial and concrete about city living. In this album, Chapman-Fox manages to encapsulate the sense of something much bigger than oneself, like the overwhelming feeling of being lost in an unfamiliar land. He achieves this sensation through configurations of unnerving digitisation and progressive synth arrangements that span across 4-5-minute-long tracks. As an album, I believe that it arguably could be just as fitting for a dystopian-esc sci-fi as Vangelis' Bladerunner. Though some may not agree with my comparison, I would highly recommend this album for those late-night commutes.
Josh, Rough Trade Bristol
EXCLUSIVE: The Nation's Most Central Location (Rough Trade Exclusive blue vinyl) + Live At Iklectik Art Lab (Rough Trade Exclusive 12")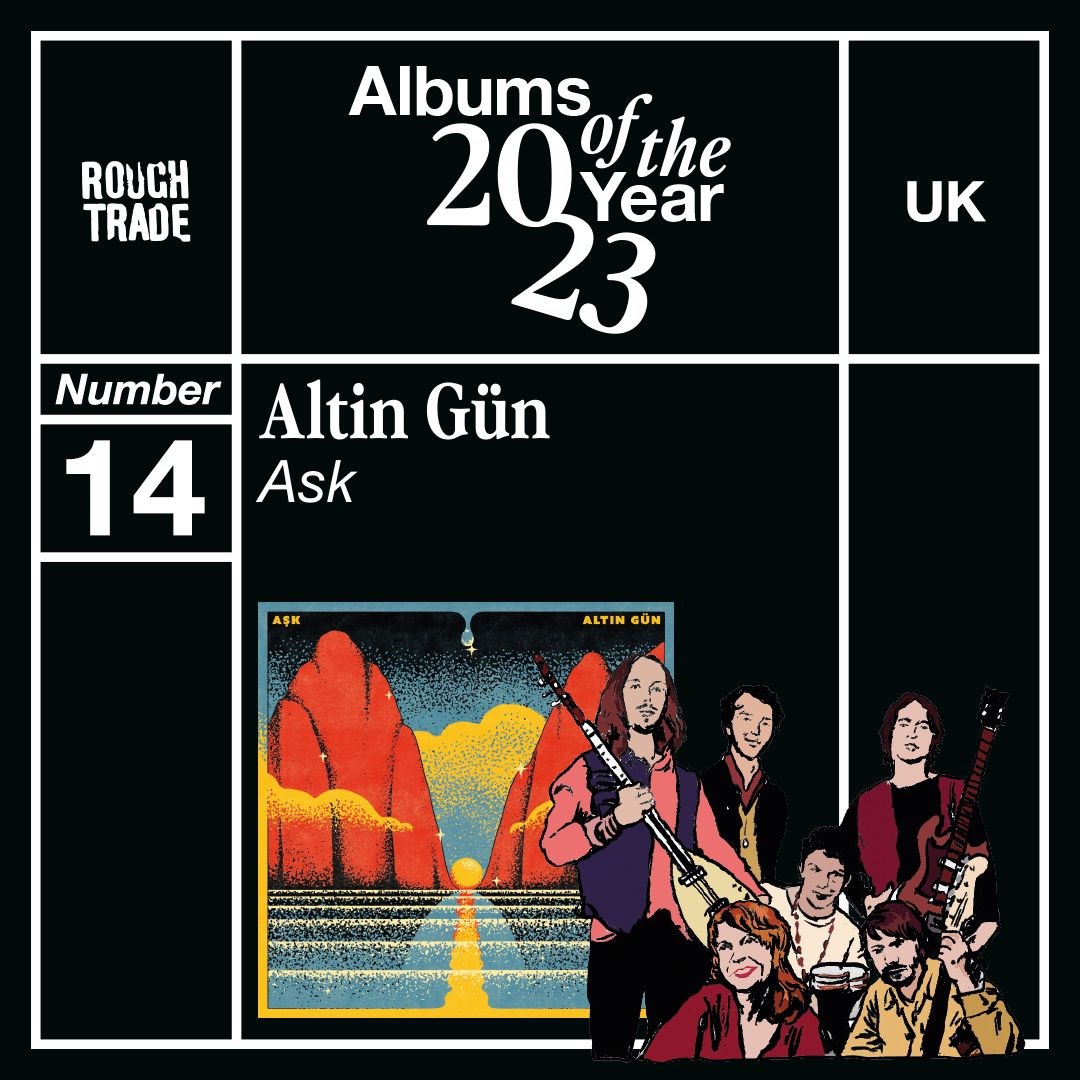 Altın Gün have managed to blend together Turkish and Anatolian traditional music with psychedelic rock and 70's vibes like no other band. This entire record feels like a warm blanket, with pulsating bass lines (SO GOOD) and undeniable musicianship across the board. It's a return for the band to their earlier more psychedelic sound, and this is one of those records you have to listen to from beginning to end in one sitting. Impossible not to dance while listening! And for anyone who hasn't seen them yet, go and buy tickets right now, I promise you won't be disappointed.
Connor, Office
EXCLUSIVE: Ask (Rough Trade Exclusive marbled white/clear vinyl)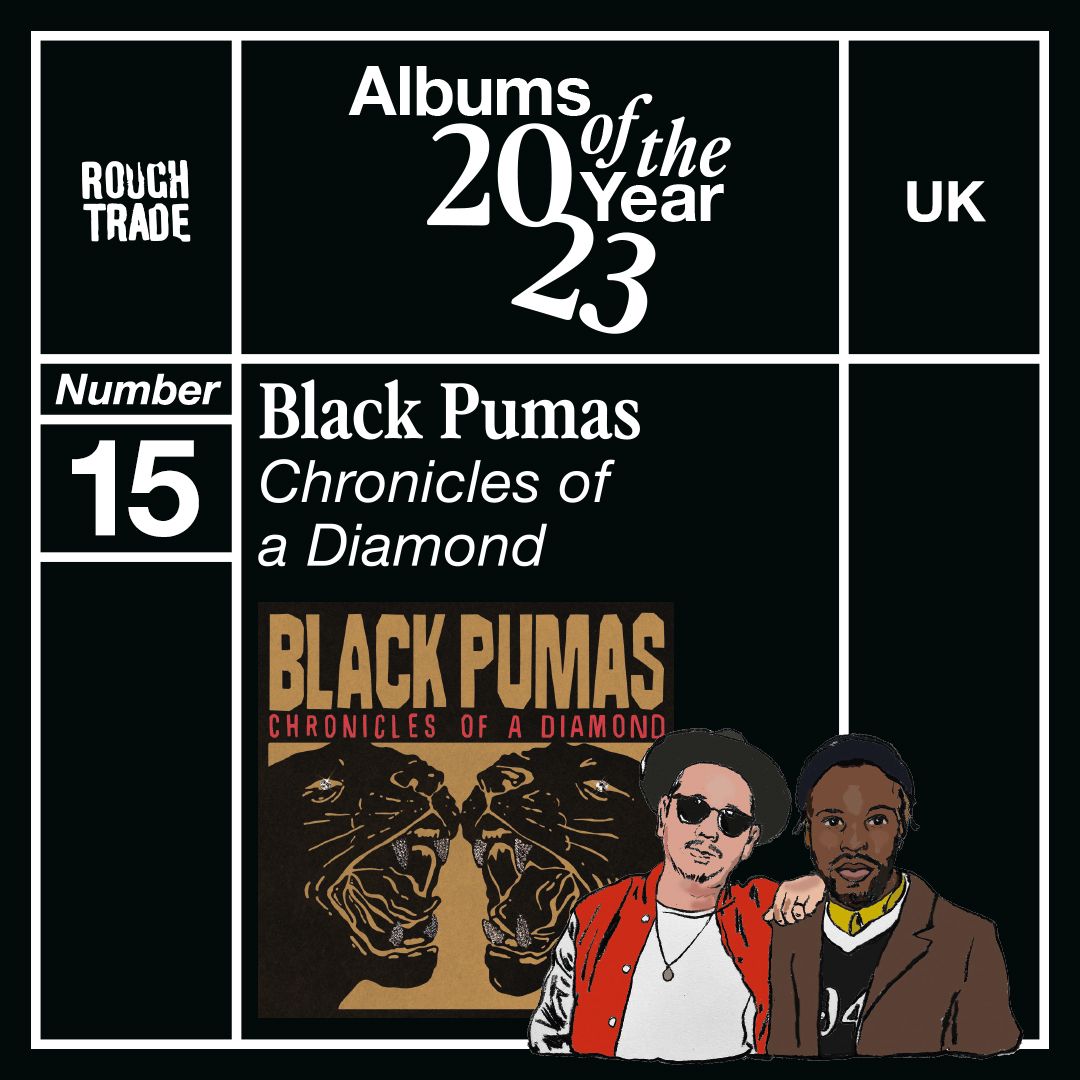 As the Black Pumas say themselves on the album track More Than a Love, this is 'sweet soul music, to reignite your soul'. A true shimmering 70's sound but electrified, as the duo of Eric Burton and Adrian Quesada combine their efforts for an innovative approach which cements the beauty of soul music alongside rock and psychedelic influences. There's so much romance, life and storytelling in the duo's sound, and as the band share: this 'more collaborative' sophomore really demonstrates a very cohesive partnership, one which has really had us absorbed since its release.
Georgia, Office
EXCLUSIVE: Chronicles of a Diamond (Rough Trade Exclusive white/clear/orange splatter vinyl).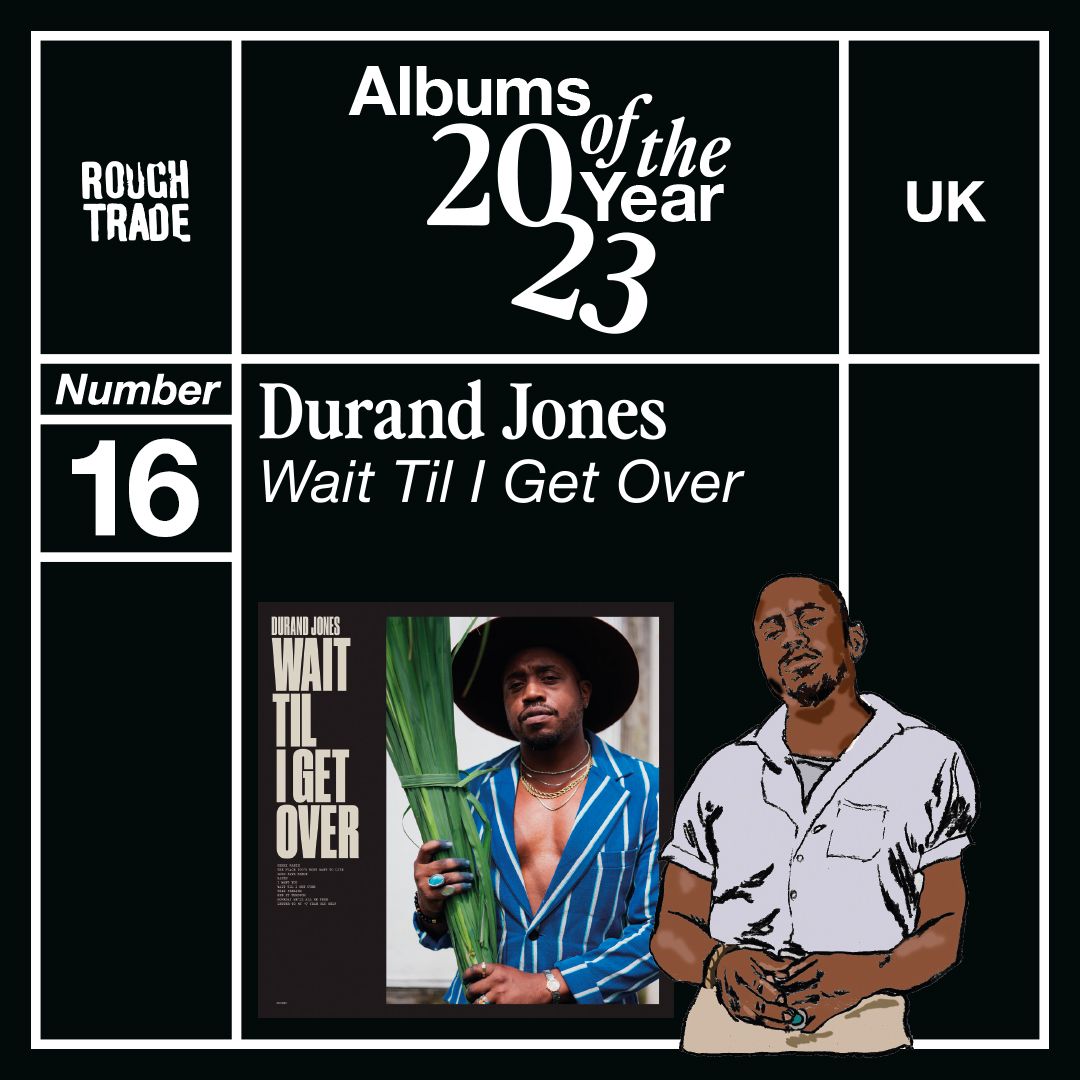 A highly conceptual and affecting record, Durand Jones moves further into his reputation as a modern vanguard of southern soul. Drawing from rock, folk, church music and R&B. Wait Til I Get Over tells a poignant story of the pride and struggle of the Black American experience, Durand's upbringing in the church and understanding his queerness. Beyond this, Durand's timeless voice is PERFECT for vinyl and that deep listening – go get it.
Georgia, Rough Trade Office
EXCLUSIVE: Wait Til I Get Over (vinyl) + Gerri Marie / That Feeling (Rough Trade Exclusive live 7")
READ NOW: Shoplifting with Durand Jones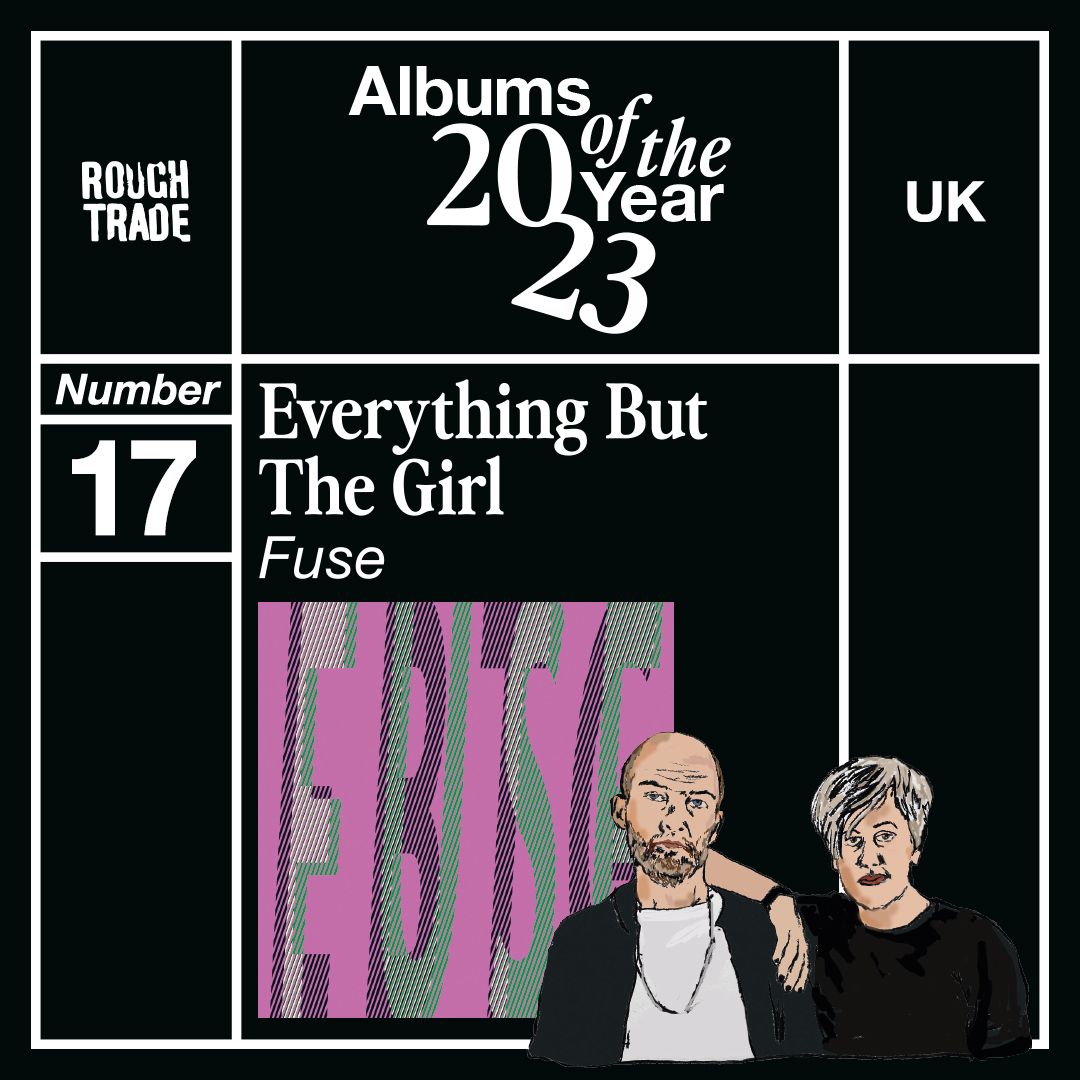 There hasn't been another musical return in 2023 that has matched the significance of a new Everything But The Girl album. I have to admit that I was pretty nervous when Tracey Thorn first announced the 'reunion', but that quickly subsided once I'd heard the thundering, dubstep-infused, and aptly-titled lead single Nothing Left To Lose, which was given even newer life with a hauntingly beautiful stripped-back rendition during their sole live performance of the year at the legendary Maida Vale studios. Both Watt's production and Thorn's voice have completely stood the test of time, with the duo embracing contemporary techno sounds that soundtrack their most vulnerable album yet.
Dylan, Office
EXCLUSIVE: Fuse (Rough Trade Exclusive pink/purple splatter vinyl)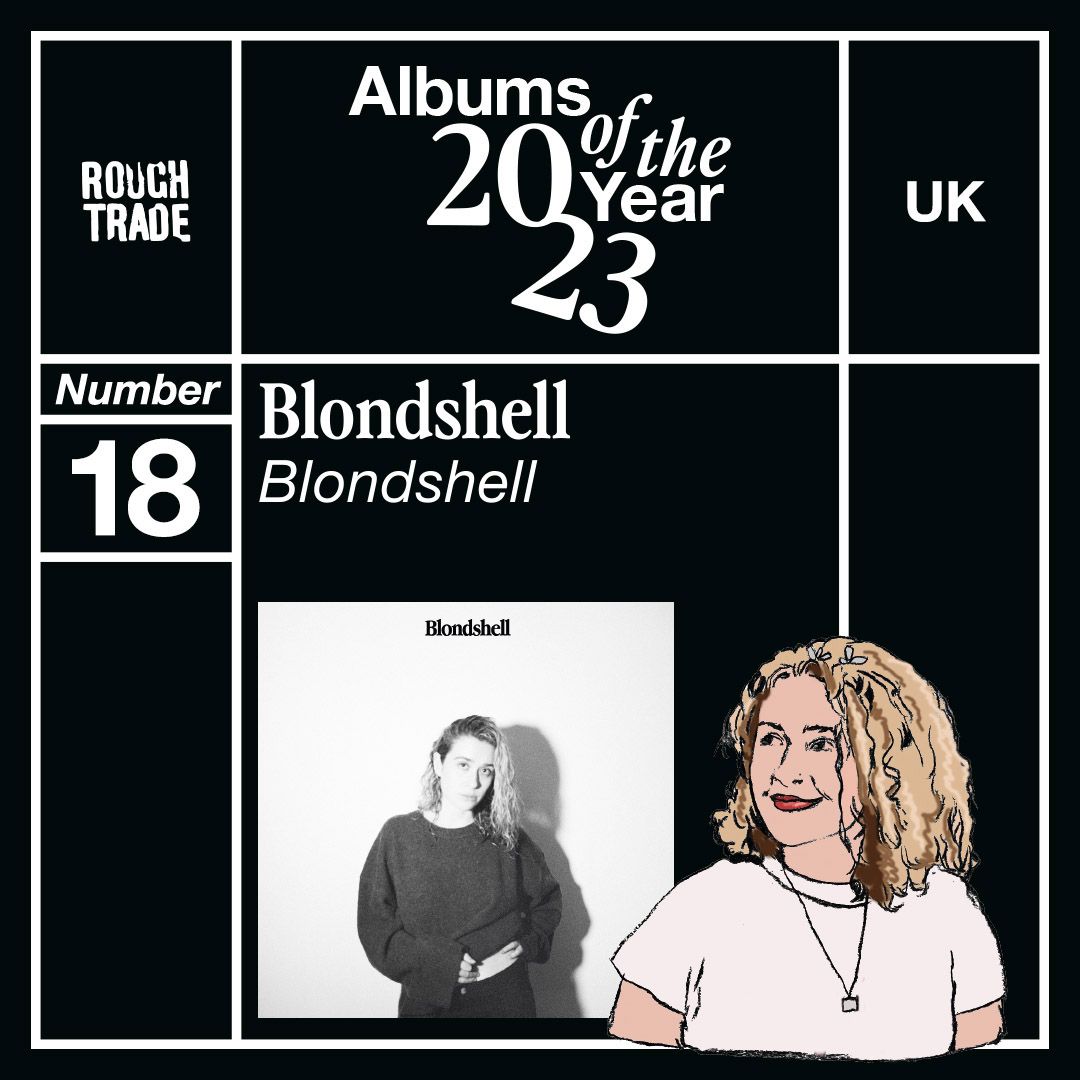 It's rare for an album that could easily just sit under the label of "guitar music" to grab me these days, but Blondshell's debut was an instant classic as soon as I heard it. I have played this at Rough Trade West pretty much every week since it was released. The production is unique and straight away excited me for what's to come from this artist. Let alone Sabrina Teitelbaum's voice – which by the way is as excellent live as on the record. The lyrics are raw and honest, at times with a hint of sarcasm that just pops, and there's a perfectly balanced sonic darkness that magically runs through the whole record. Each track tells a story without compromising on how damn catchy it all is. I'd recommend a song but actually, just stick the whole thing on. Sabrina's ability to write and perform songs with such dynamic range and lyrical openness has converted me to a mega fan and I cannot wait to hear what she does next.
Rachel, Rough Trade West
EXCLUSIVE: Blondshell (Rough Trade Exclusive signed obi strip + bonus CD)
READ NOW: Shoplifting with Blondshell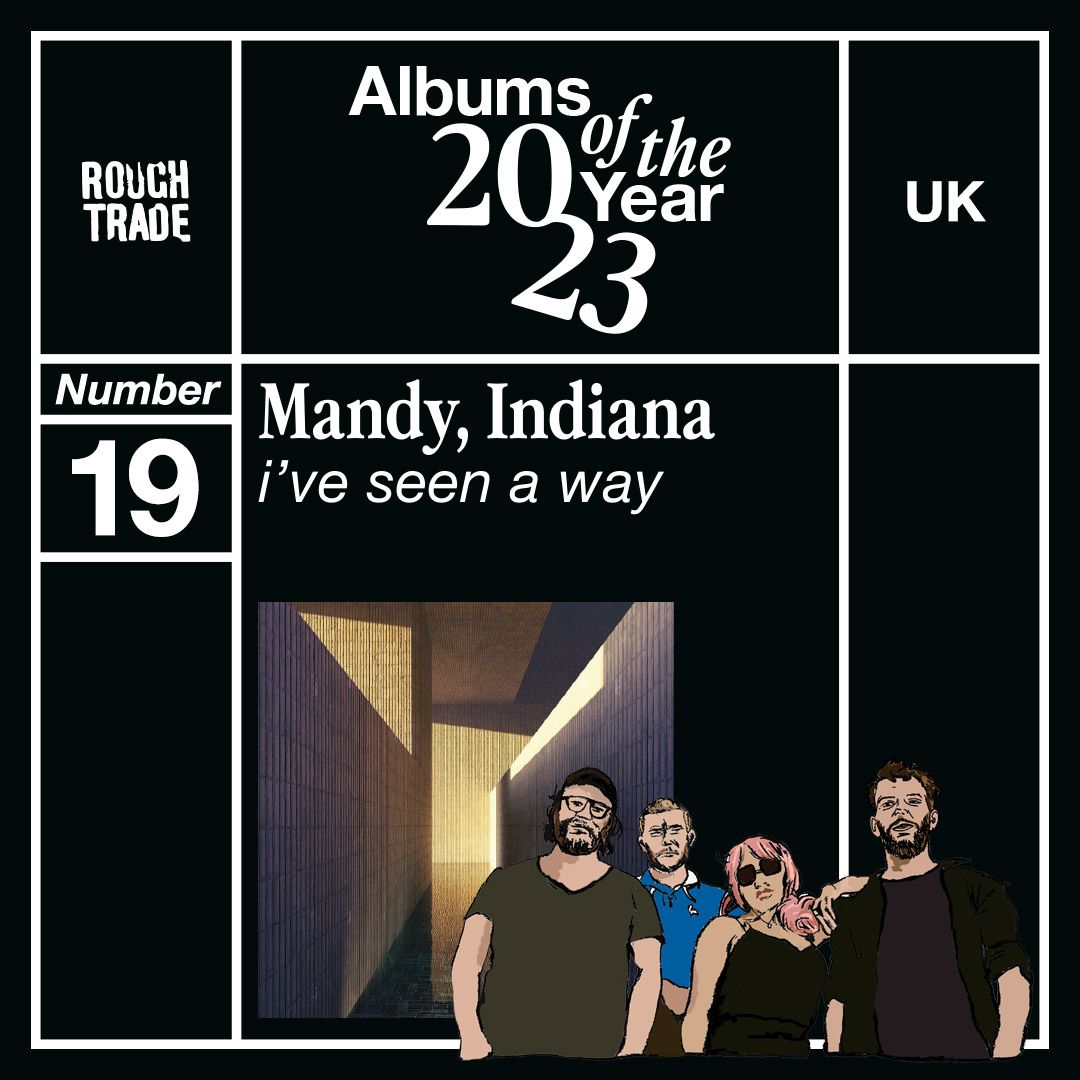 This album is unlike any other on this list. Bursting with ambient, glitching glimmers and colossal baselines, Mandy, Indiana's i've seen a way paves a path for new age electronic and experimental. Chock-full of mesmerising riffs and licks of post-industrial dance fusions, it keeps listeners on their toes with unpredictable, scratchy beats. The album as a whole has an immediate apocalyptic and stygian feel that would not feel out of place in a kooky, unconventional nightclub. Mandy, Indiana will not be a band to miss when they play in a town near you.
Adam, Warehouse
EXCLUSIVE: i've seen a way (Rough Trade Exclusive cloudy clear vinyl + bonus Pinking Shears 12″ – Clipping rework)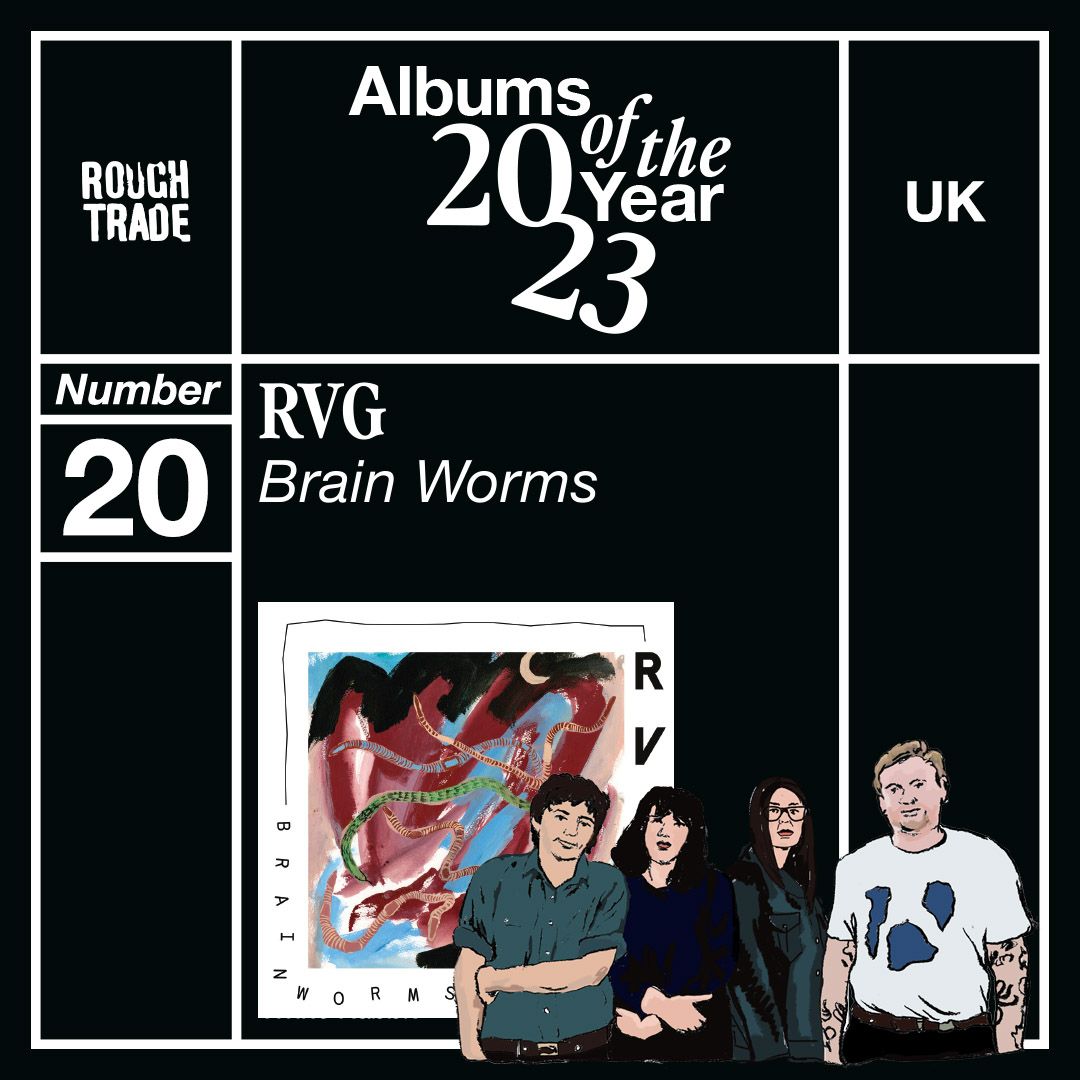 Melbourne-based Romy Vager Group (RVG) have been creating their illuminating post-punk for over five years, releasing debut album A Quality of Mercy in 2018, before signing to Fire Records and dropping sophomore Feral during the pandemic in 2020 (anyone else have Christian Neurosurgeon ON REPEAT through lockdown?) On third LP Brain Worms, the band has taken some creative risks that have paid off splendidly, their latest output a freeing, stirring, all-embracing sonic excursion and an unapologetic exploration through synth and truth.
Emily, Office
EXCLUSIVE: Brain Worms (vinyl) + Nothing Really Changes (The Remixes) (Rough Trade Exclusive 12")
READ NOW: Shoplifting with RVG
---